I have many clients who call me to come over and style their bookshelves because they aren't sure where to start. I love to do it because it feels like a puzzle and in the end it makes a family room feel warm and inviting. Here are the 10 steps I use:
Step One
Gather all the items you want to use and put them on your coffee table. Be sure and use hardback books and take off the paper covers. If you don't have many hardcover books, you can buy some at Half Price Books. To make it really easy, buy bundles of books in similar colors. Black books are a safe choice. You can find them here: https://www.wayfair.com/decor-pillows/pdp/booth-williams-modern-onyx-silver-colorpak-bwil1582.html?&experiencetype=2&selectedvertical=2 I add books that have spines that are similar to the colors in the room. But if you don't want to go out and buy new books you can always turn the books around so you don't see the spines. Other items to include when you style your bookcase are framed photos, decorative boxes, small artificial plants, battery operated candles, meaningful trinkets from your travels, family heirlooms, vases and of course, bookends. If you need ideas of what to buy for your bookshelves, check out my pinterest board: https://www.pinterest.com/krinn/bookshelf-styling/
Step Two
Place the large items on the shelves first. For example, in the photo above with the Cuzco Cabinets, I put the vases and large objects on the top shelves and then interspersed the rest of the large items on the lower shelves with books and smaller items.
Step Three
You don't need a lot of books to style your bookshelves. You can group two or three items together to fill the shelves like in the photo below.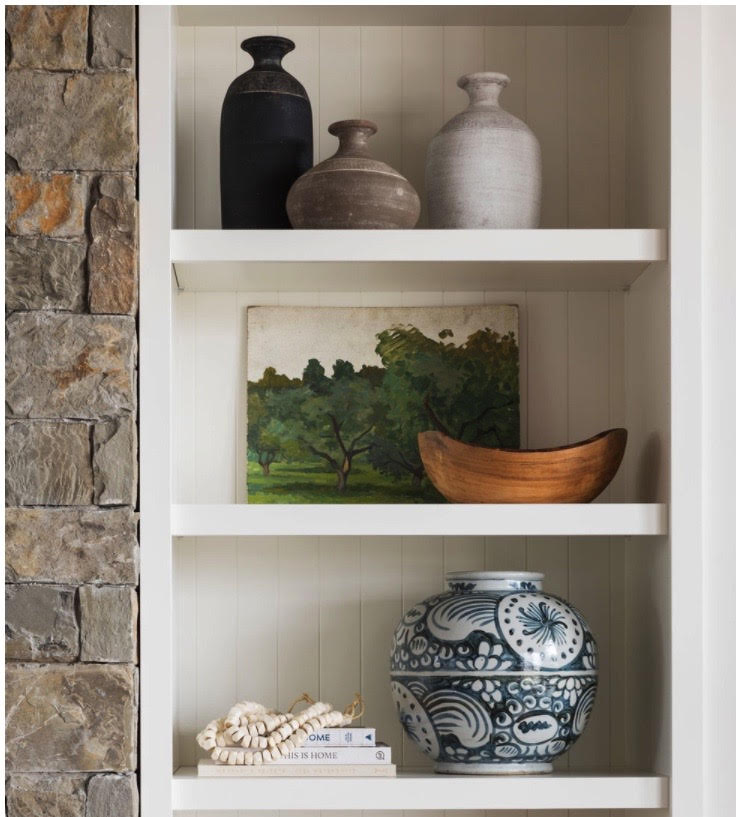 Step Four
On a couple of the shelves, stack two or three big coffee table books and lay them horizontally like in the photo above. Later you can put smaller items like greenery or candles on top of them to create height.
Step Five
Gather five to seven smaller books and stack them vertically on bare shelves. You can use bookends to keep them stacked. If you don't have bookends you can lean some of the books against the wall of the bookshelf and stack three to four more books horizontally to act as a bookend like in the photo below.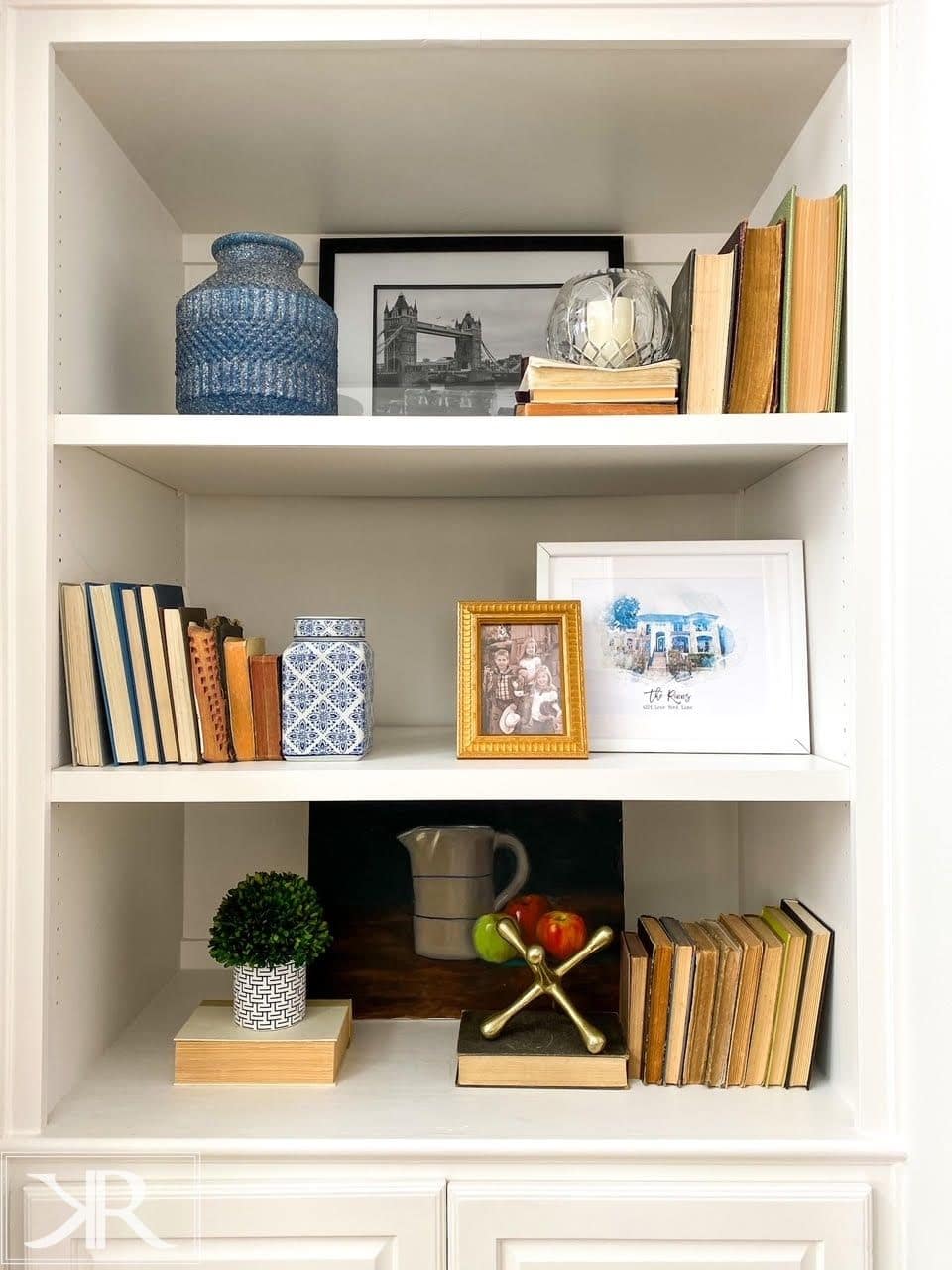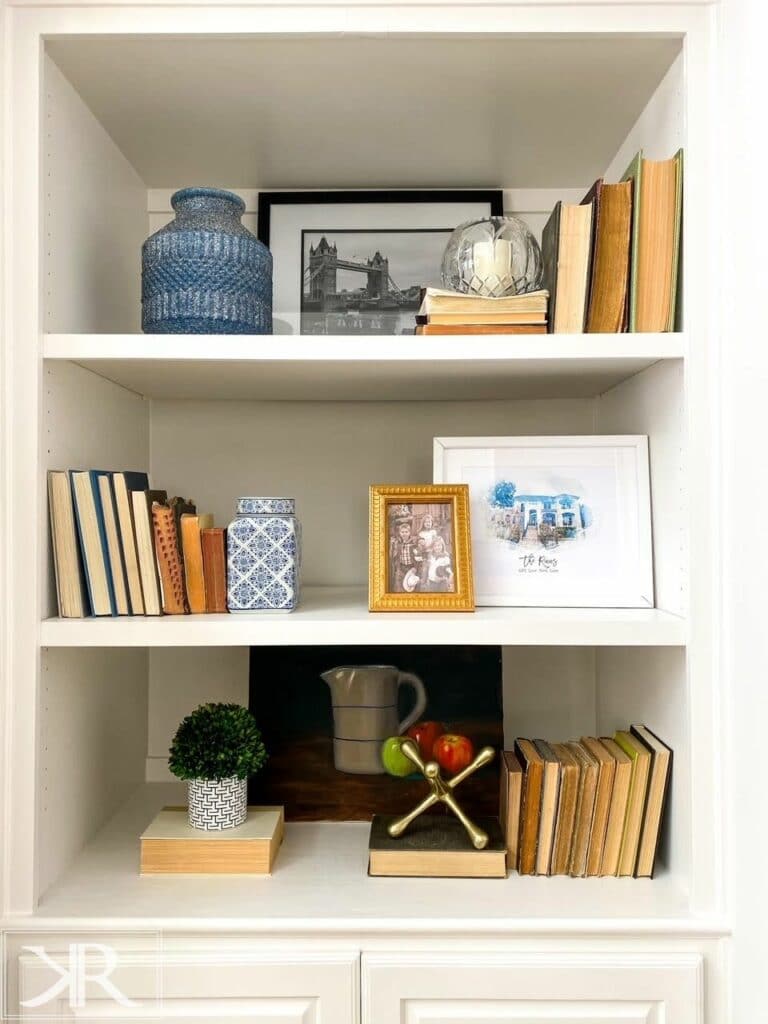 Step Six
Add small photo frames by placing them on top of stacked books. Larger frames or art can go in the back of the bookshelf. You can layer smaller items in front.
Step Seven
You want to create balance when you style your bookshelves, so be sure and spread out similar objects. For example, if you have a lot of gold decorative objects that are almost the same size, put them on different shelves.
Step Eight
Bring in items with a variety of textures and colors. In the photo below, I have several blue objects but the blue vase is rough and bumpy and the blue and white ceramics have different patterns. The fourth object with blue is the framed watercolor of our house. Plants also add texture so be sure and incorporate them – even if they are artificial.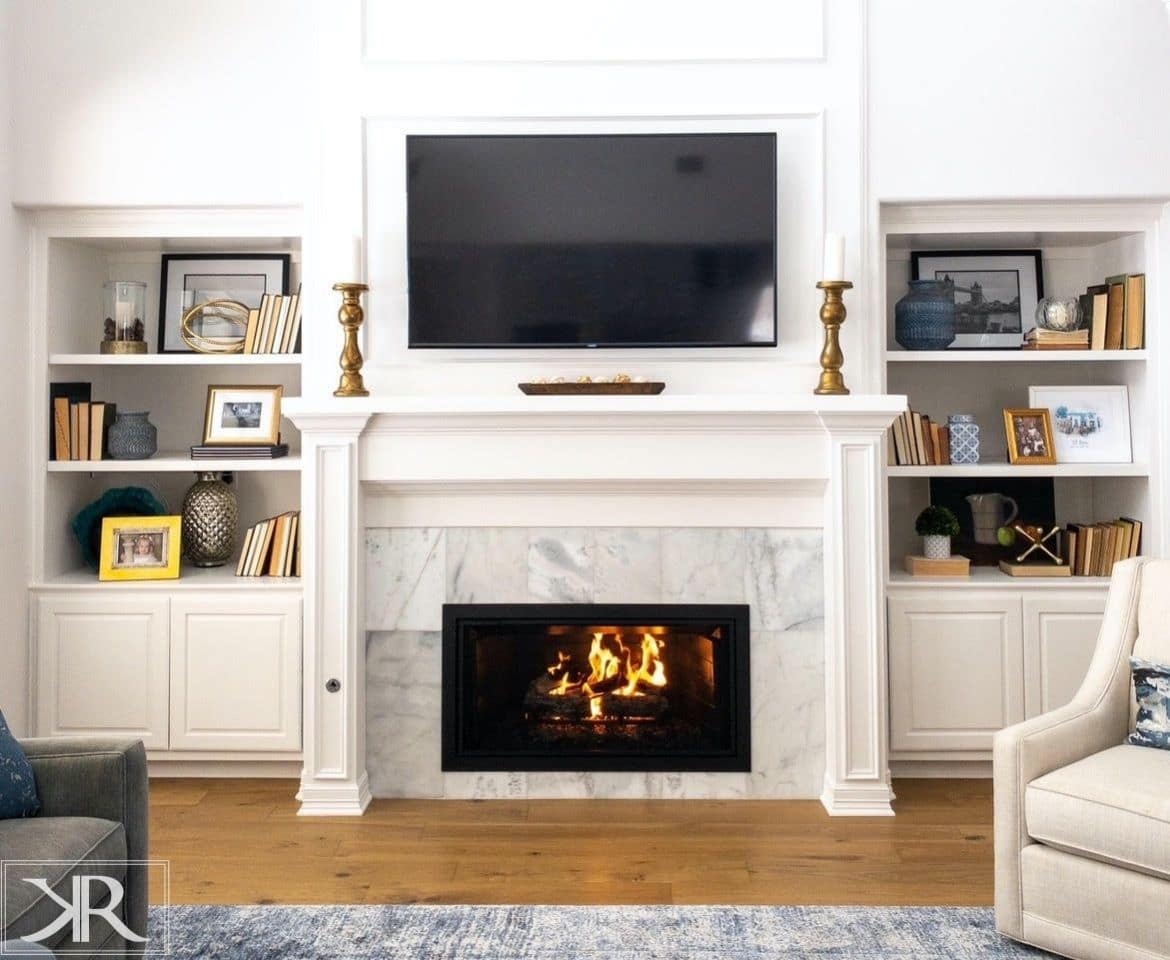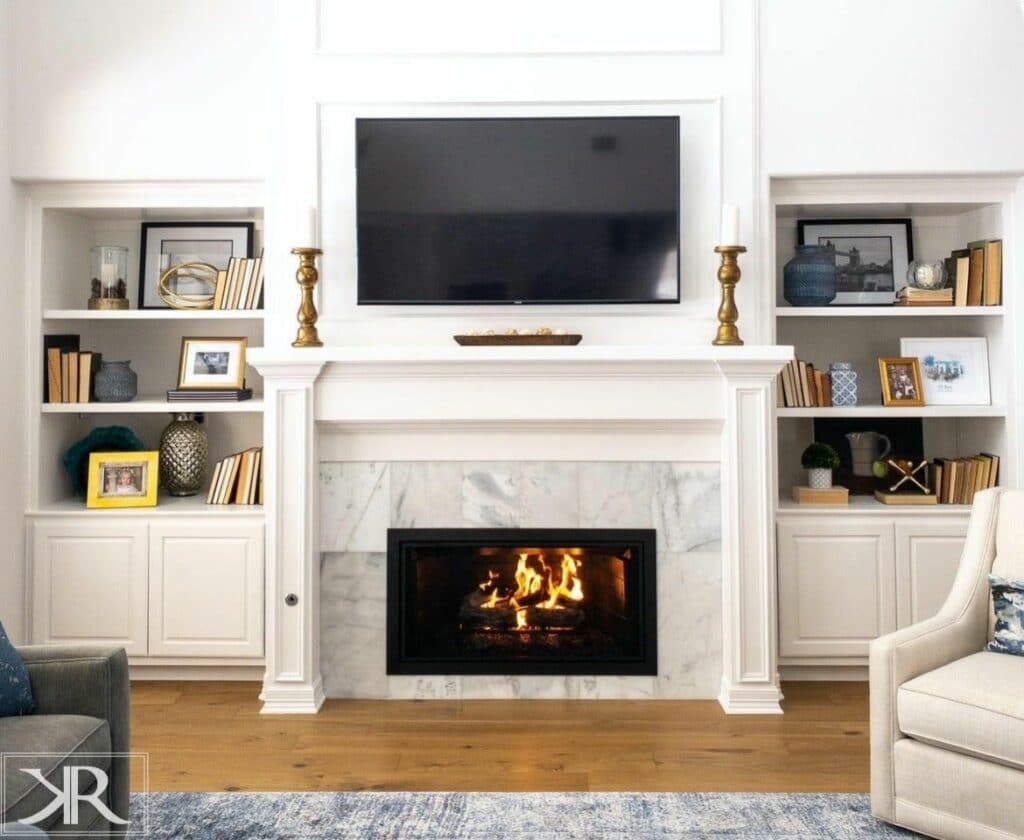 Step Nine
Leave some white space. If you like the Scandinavian minimalist look, put fewer items on your shelves and keep the look cohesive. For example, in the photo below they used lightly stained wood, sage greenery and white books to keep the bookshelves simple and airy.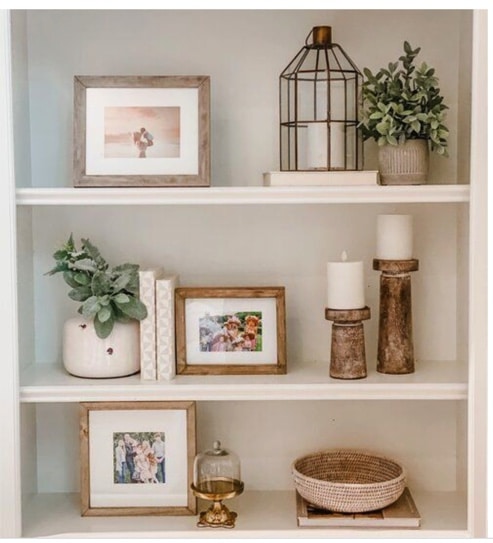 Step Ten
Step back and look for the empty spots and add more books or small objects, if needed. There really is no right or wrong way to style your bookshelves. Remember, they are your bookshelves and they are a place to display what is important to you and your family. Still stuck? Contact me here: https://kristenrinndesign.com/contact-austin-interior-designer/ If you don't live in Austin, Texas I can still help. Below is an example of how I styled the bookshelves for a client in Pennsylvania. I added accessories to the original photo of the space and provided a shopping list for her to purchase at her leisure.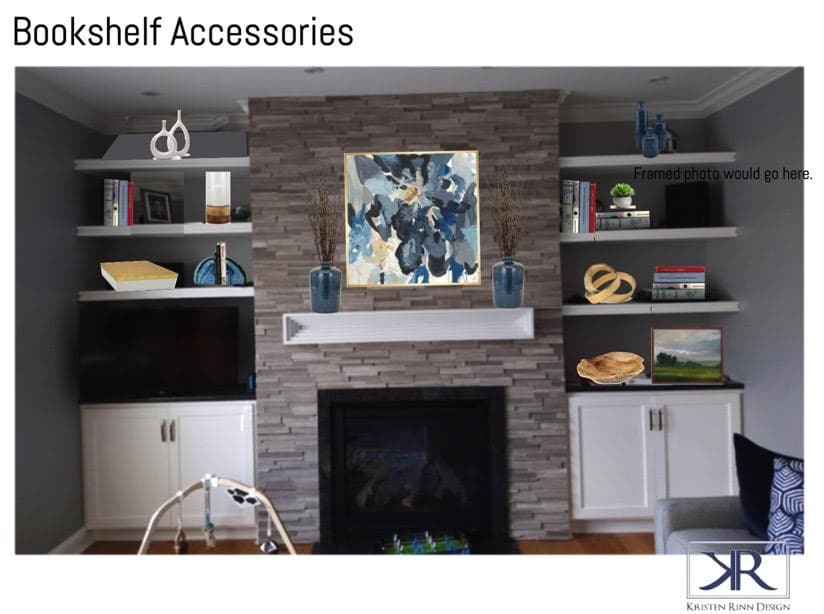 I also added the art over the mantel from my large collection custom framed art. If you would like more information on custom framed giclees on canvas, check out https://kristenrinndesign.com/custom-canvas-art-for-bare-walls/. I am happy to help with art selection, bookshelf styling and whatever else you might need to make your house a welcoming and inspiring home for you and your loved ones. Contact me here.