E-design has become popular as many people are spending more time at home and are ready to spruce up their space. When a client contacts me for my E-design services they usually have questions about how it works. I basically have three packages, but I realize everyone is different and I am happy to work with you to meet your specific needs. I am happy to give you an estimate of the total package cost before we begin.
Basic Design
After the initial 15 minute free discovery call, we will determine if the Basic E-Design Package is right for you and then I will send you a questionaire to help you think about what you want to accomplish. After that I will ask for a few measurements of the room, windows, furniture that you are working with, etc. In the basic package I will provide a design board (AKA "Mood Board" or "Concept Board" or "Rendering") which will give you a sense for how your room will look with the pieces I am recommending for your space. It's an incredibly powerful visualization tool. I will also include a basic floor plan so you can see how the pieces will fit in the room. Included is a paint color recommendation and list of next steps. Below is an example of a basic design plan.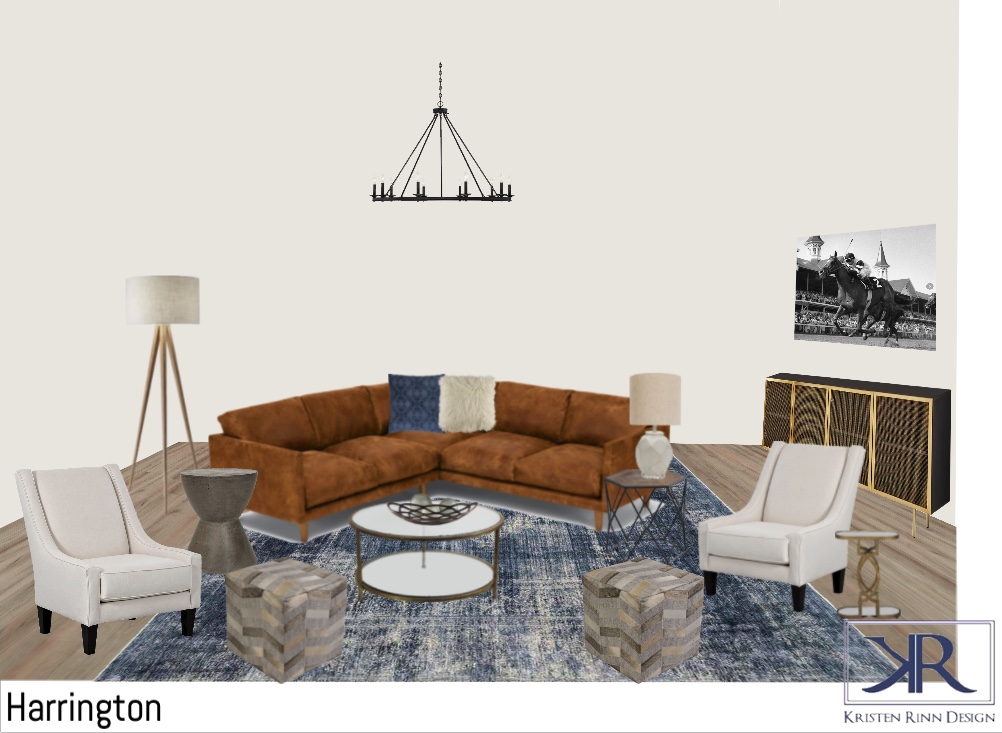 Standard Design Package
With the Standard Design Package I will meet with you in your home for a one hour design consultation, make a paint recommendation, help with furniture arrangement, take measurements and create a design board and floor plan which includes a shopping list suited to your budget. Just as in the Basic Package, a floor plan is included to give you a better picture of the overall design and how things will look set up. You can then shop for the needed items at your leisure. I will be available to answer any questions and make up to two revisions. Below is the shopping list for the Basic Design Package. You can add a 3D rendering to help you better visualize the space for an additional $250.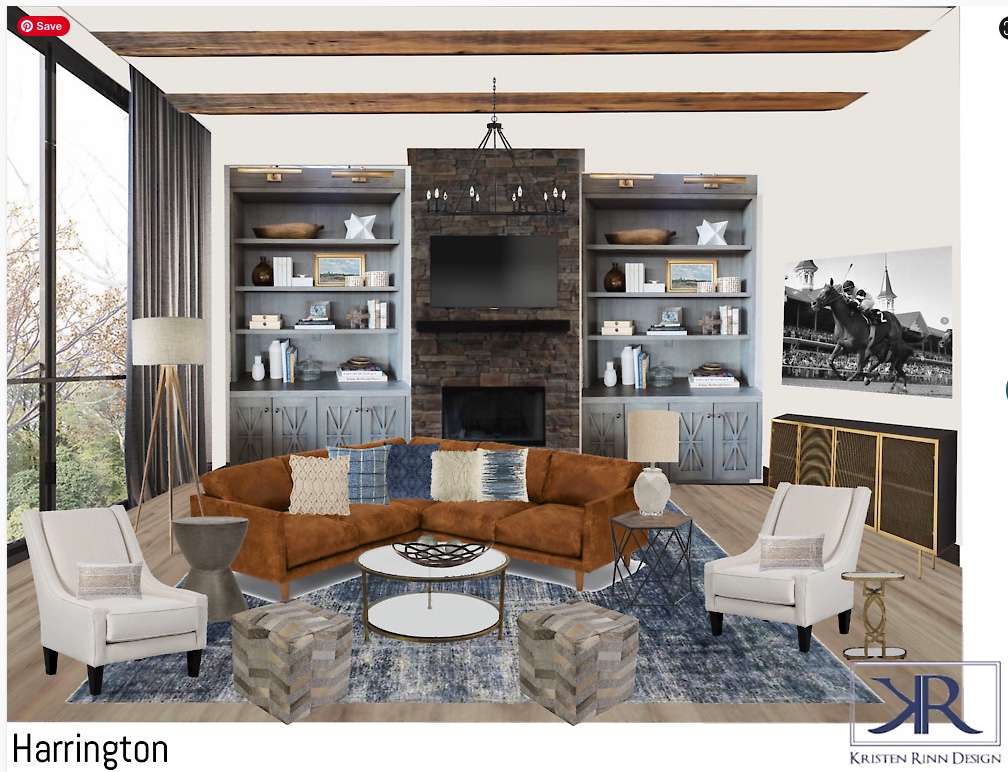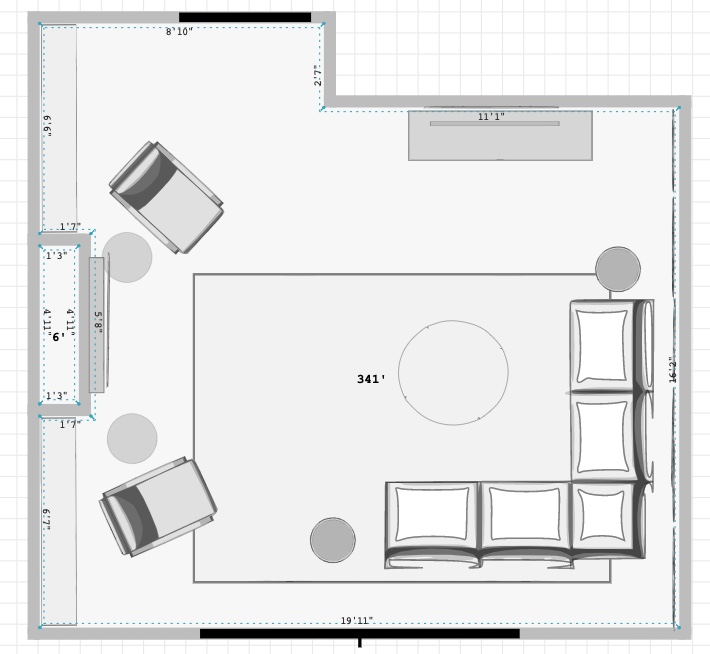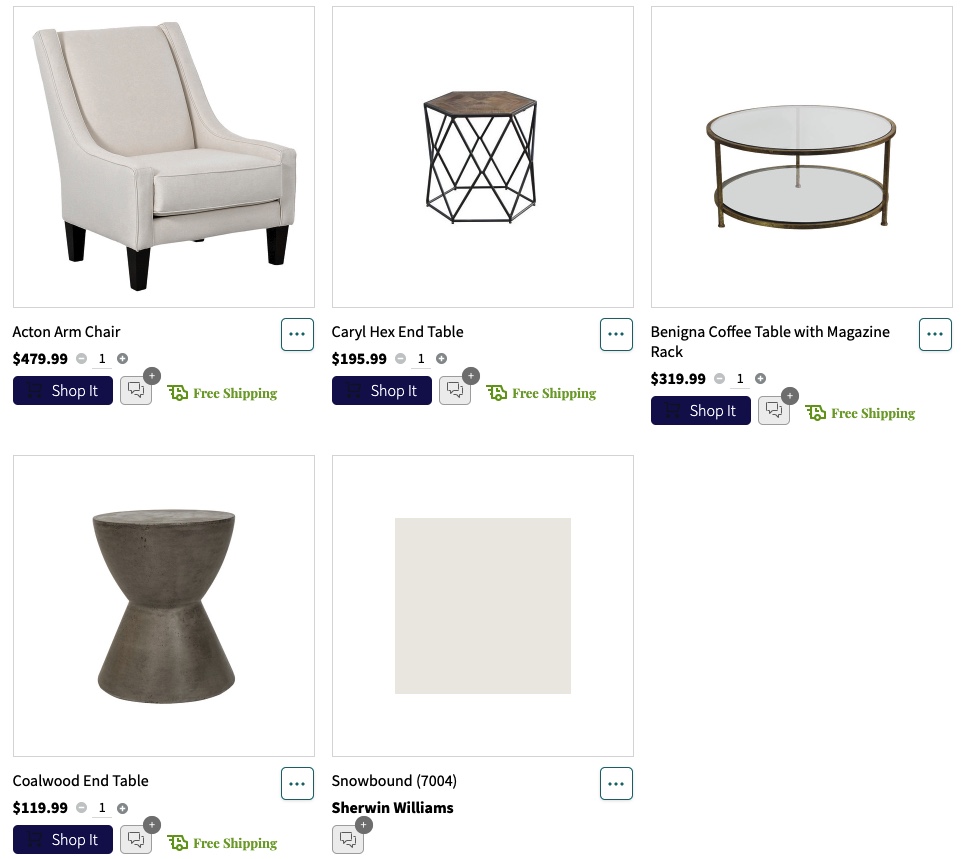 Full Service
With Full Service you receive all the benefits of e-design with the design board and floor plan but the 3D rendering is also included. In addition, I will source retail and custom furnishings at discounted prices, custom wall art, lighting, window treatments and accessories. We will have an in home presentation with material samples and to go over the plans in detail. I will also take care of all the ordering, deliveries, and installation. I handle all the details so you don't have to worry about anything. You just get to come home to a unique and welcoming space that inspires you to live your best life.
Design Board with Photo
If you have furniture that you would like to incorporate into your space, with e-design I can create the mood board on the photo of your room to help you visualize it better. For example, this client wanted to spruce up her dining room but wanted to keep her grandmother's table, chairs and china cabinet. She sent me a photo of the room and I brought in the art, chandelier, and end chairs that I thought would look best with what she had.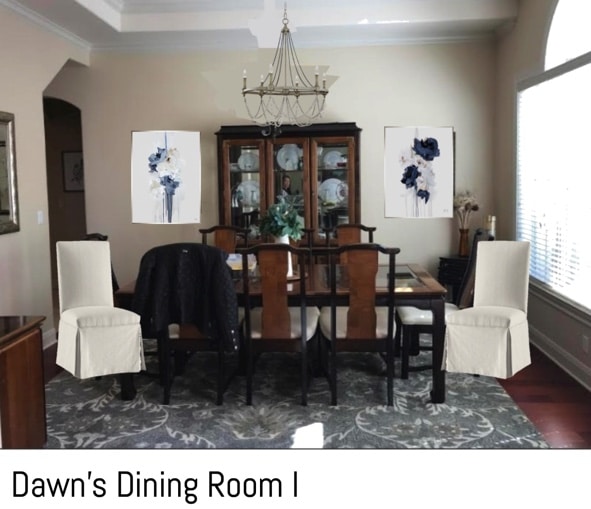 After seeing the rendering with the existing furniture my client decided to add new dining room furniture to the budget. I tweaked the design and sent her this: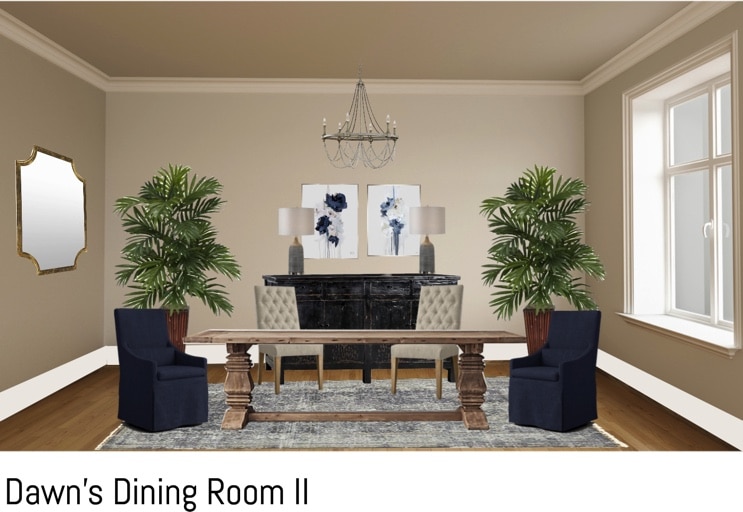 She loved it. After I ordered all the furniture and accessories, the final photo looked like this: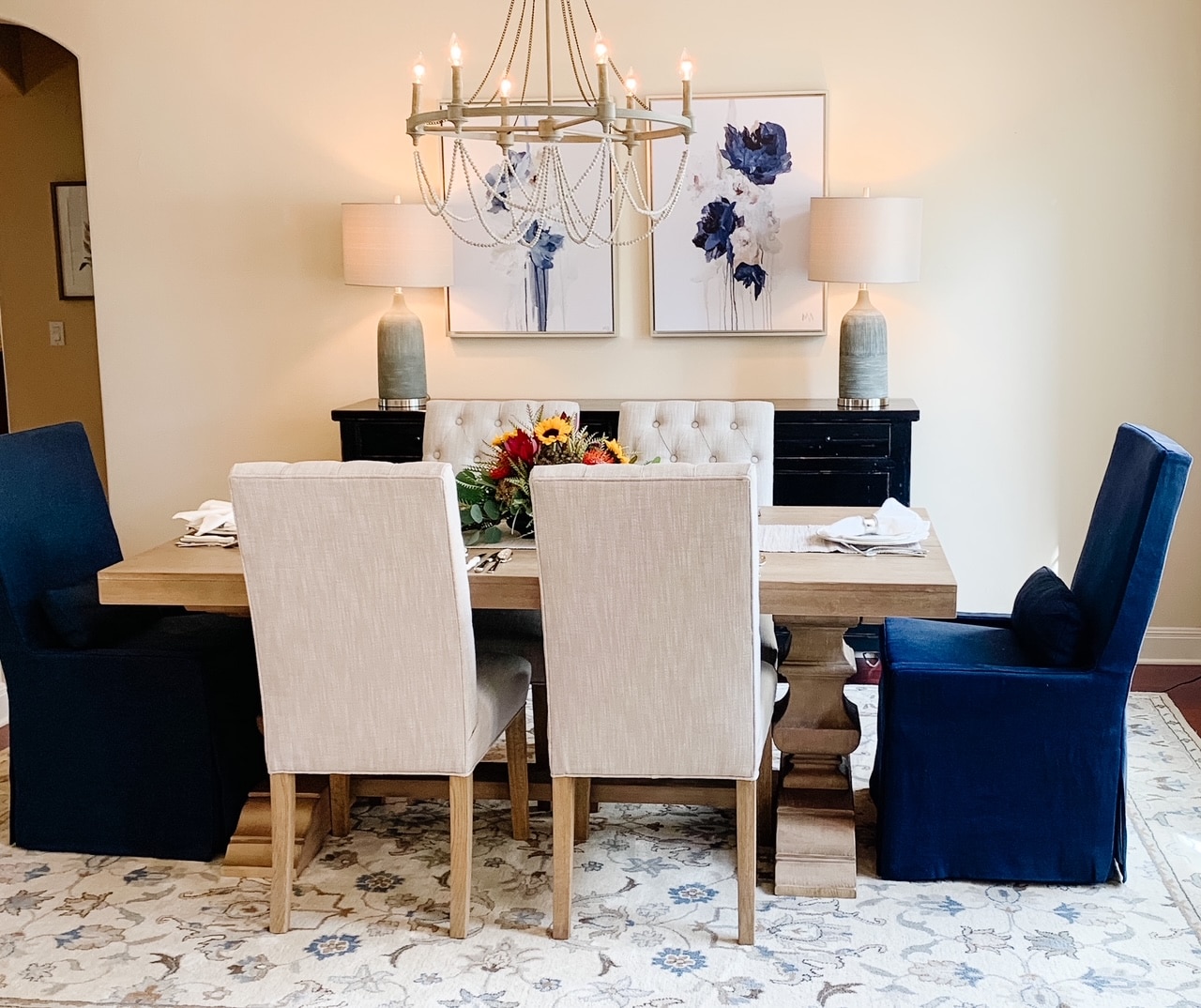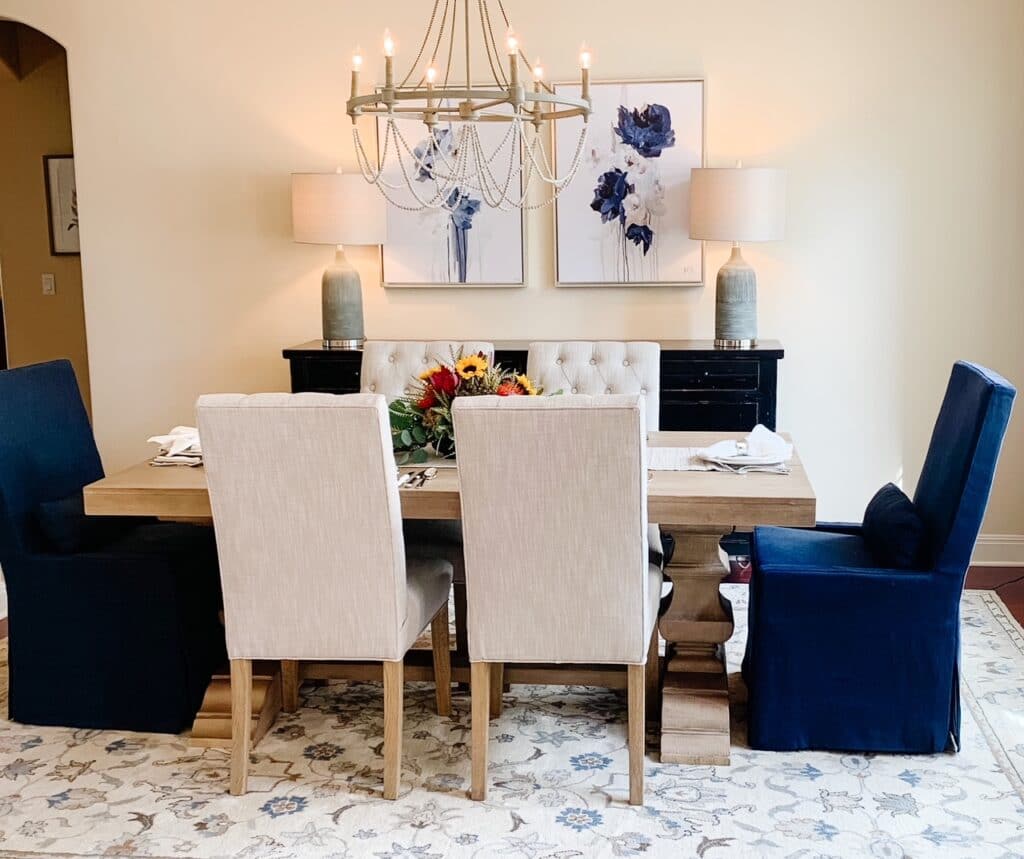 Testimonials
When we bought our home, I knew the dining room wasn't as I wanted, but struggled to figure out what to change! Kristen helped create a plan for new furniture and lighting that was better than I could have imagined. Even in a remote setting, she was able to share sample designs via email that gave us a great view for what it would look like! We are thrilled with the outcome and thankful for Kristen's expertise. – Dawn, Austin, Texas
I had the pleasure of getting to know Kristen Rinn three years ago when I hired her to stage my home for a move. I found her to be a respectful, warm and kind person with an incredible work ethic. Not only was she professional, extremely resourceful but also quick at making decisions and finding just what I needed. With only two weeks before our big move from the USA to Canada, Kristen managed to decorate our new home in Canada with only photos and measurements to go by. She ordered rugs, drapes, lamps and chandeliers, picked paint color for the entire house and advised on furniture placement. Everything arrived ready to go on our moving truck and the only thing I sadly had to leave behind was the most amazing decorator and friend your could ever find in Austin Texas! I highly recommend Kristen for any job you may have big or small. You will love your space and make a new friend in the process. Karen-Ann, Ontario, Canada
Ready to get started? Contact me here.