A lot of us are now working from home and video conferencing most of the day. Do you find yourself looking at your screen and thinking about how blah your walls look? Maybe you need some art to fill that bare wall with some custom framed canvas art.
Or maybe before Covid-19 happened, you treated yourself to a little refresh of your home. The walls have new paint or you bought some new furniture. But the art you used to have on the walls just doesn't work anymore. Or maybe your walls are bare and not inspiring. You would love some original art but that just isn't in the budget. You have looked online and found a few things you like, but the size is wrong or the frame is wrong.
I Can Help
Send me a photo of your room with the dimensions of the ceiling height and width of the wall where the art will be hung. Tell me the colors that are in the room and I will find the art that works best in your space with the frame to complete the look you desire. I will send back your photo with the art I have chosen imposed (to scale) on the picture and the measurements for the height which it should be hung.
I have an extensive supply of abstract giclees on canvases with floating frames in a wide variety of colors. The canvases have an authentic look with hand embellishment texture and artist's signatures. The best part is you can customize the size and the frame.
If you prefer original art but you don't have the time to search for it, I can help with that, too. It will arrive framed and ready to hang – no need to take it to the frame shop.
Custom Art for My Clients: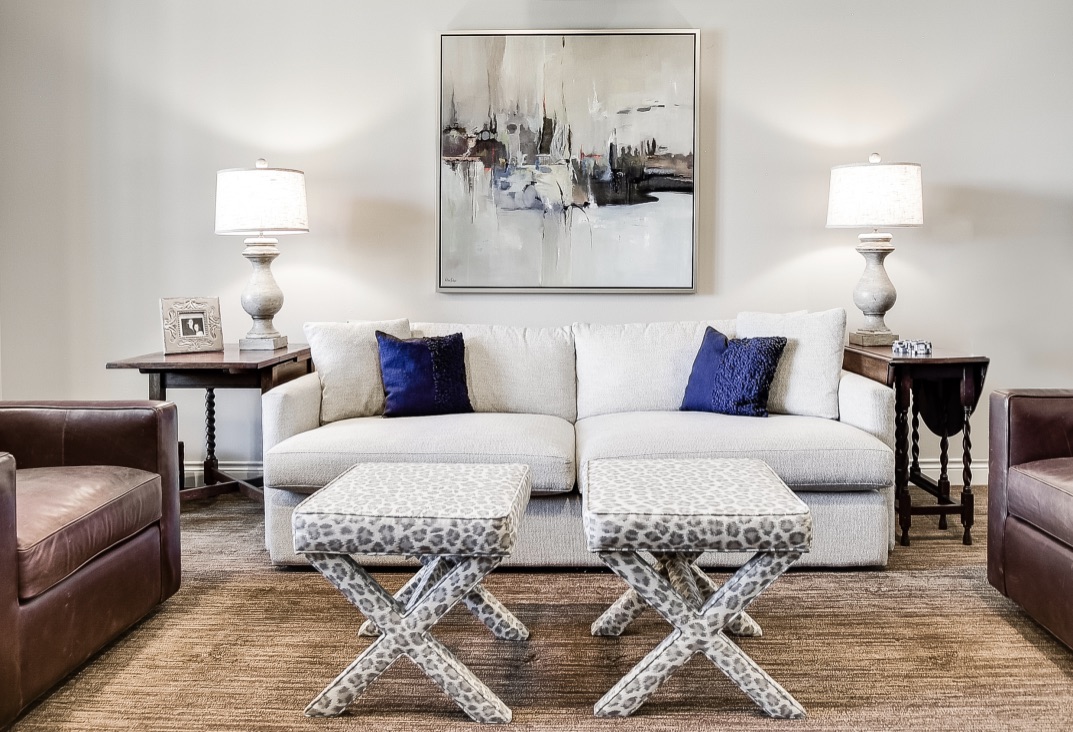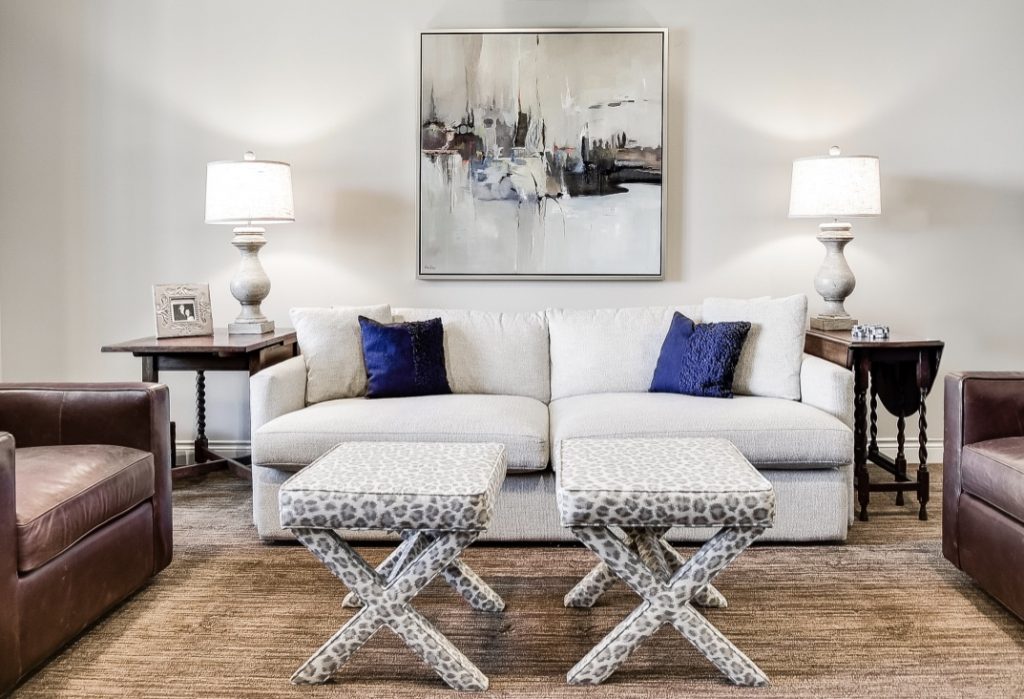 For this client I chose an oversized piece with a silver leaf floating frame to fill the large wall. The earth tones and navy blue accents compliment this family room well.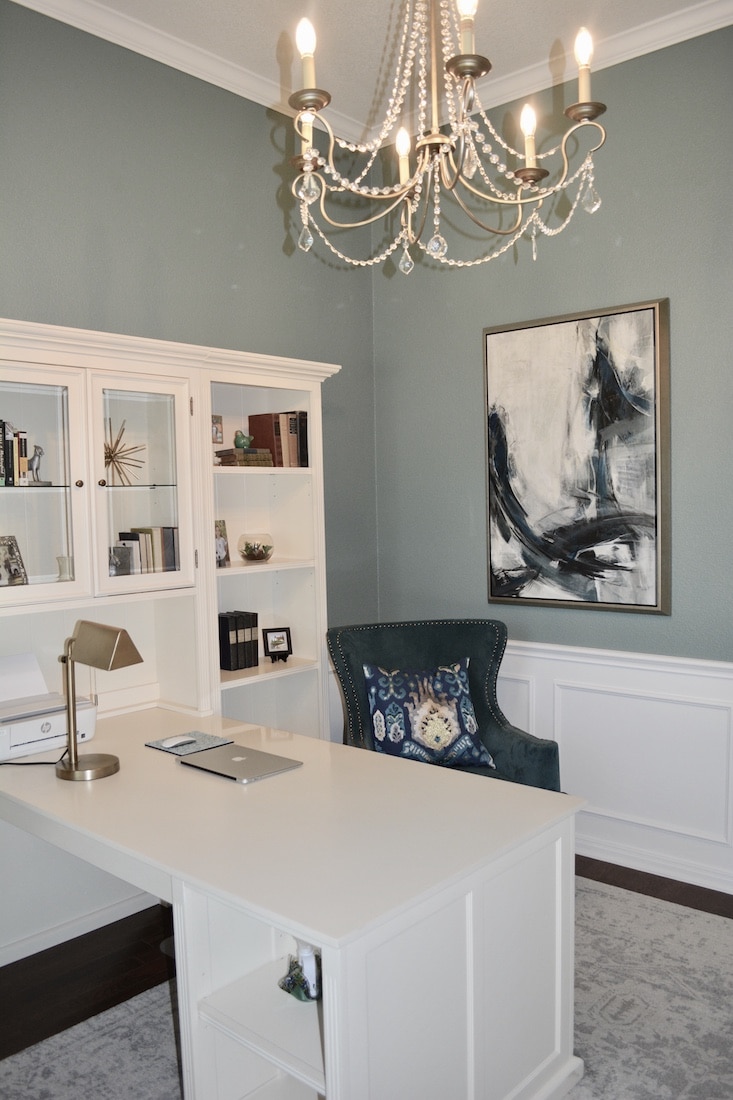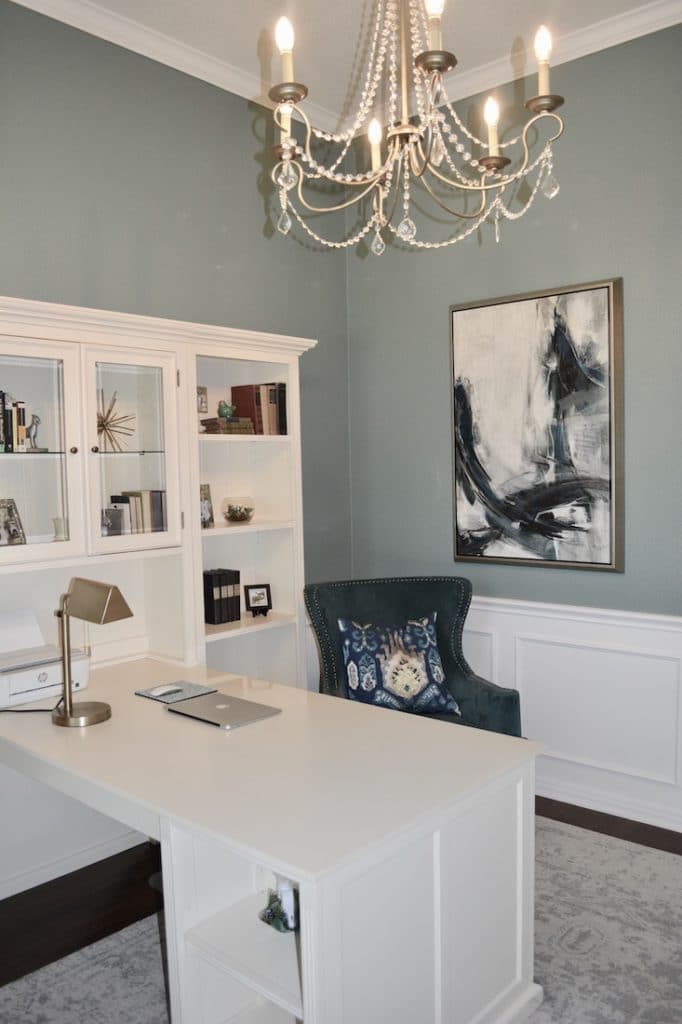 In this office above we had a large bare wall to fill. This custom art with navy, black and teal makes a statement on this wall painted Sherwin Williams SW6214.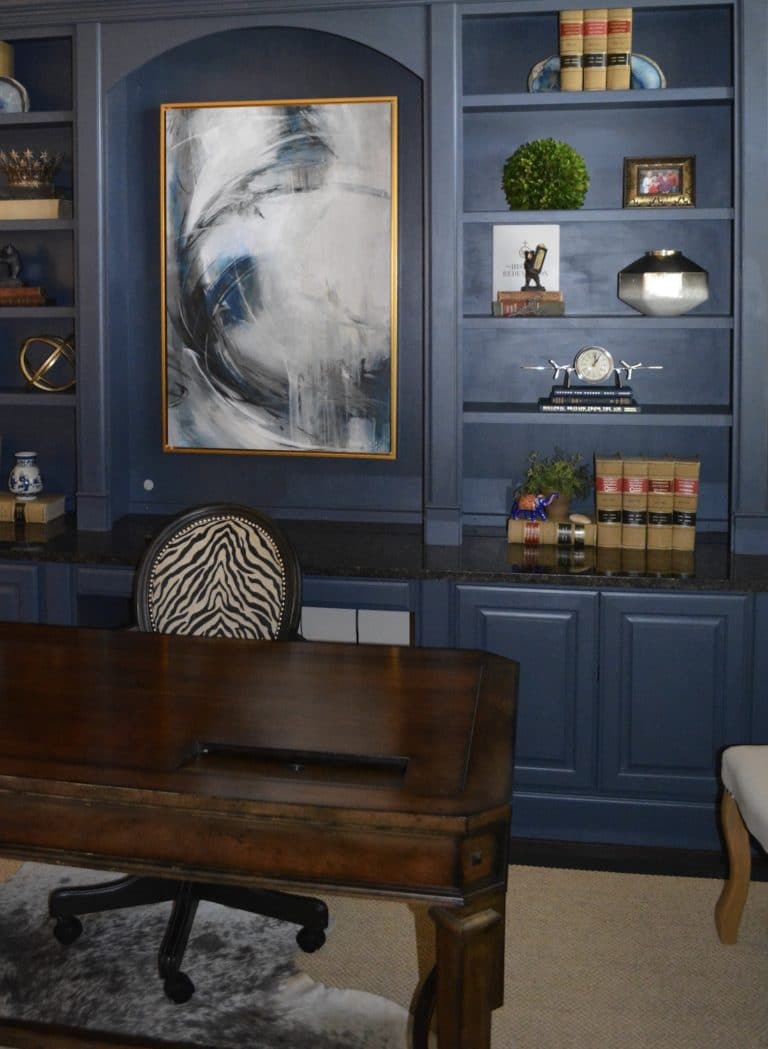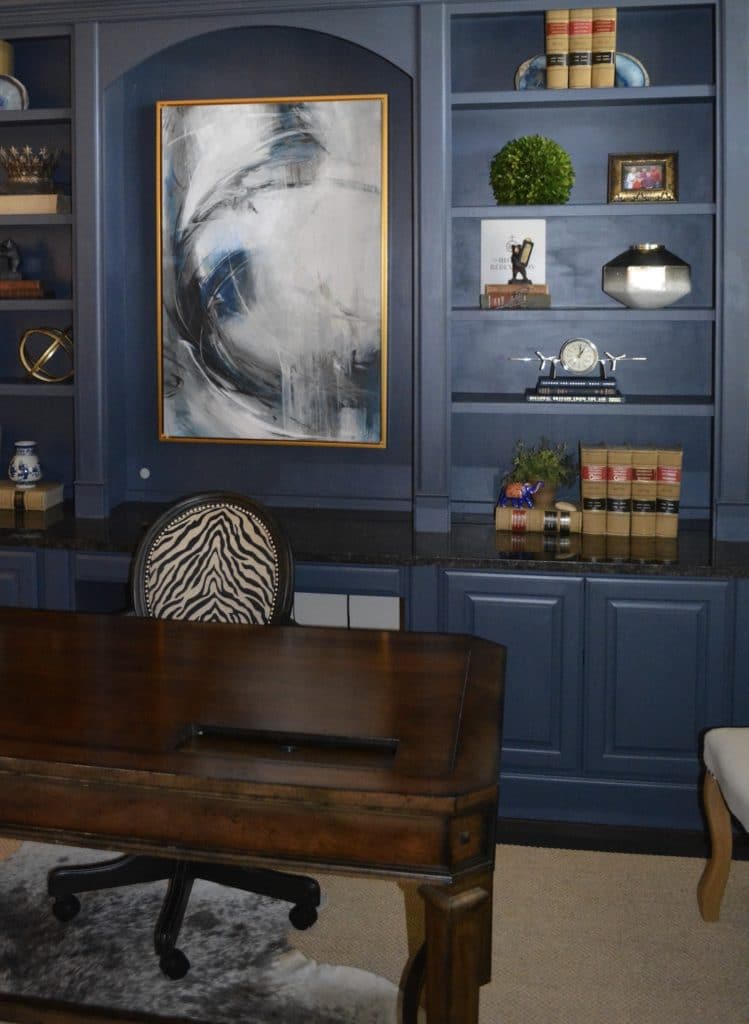 Gold frames are a great look, too. In this traditional home office above we painted the built in cabinets Hale Navy by Benjamin Moore and chose a canvas with a gold floating frame that really pops against the blue.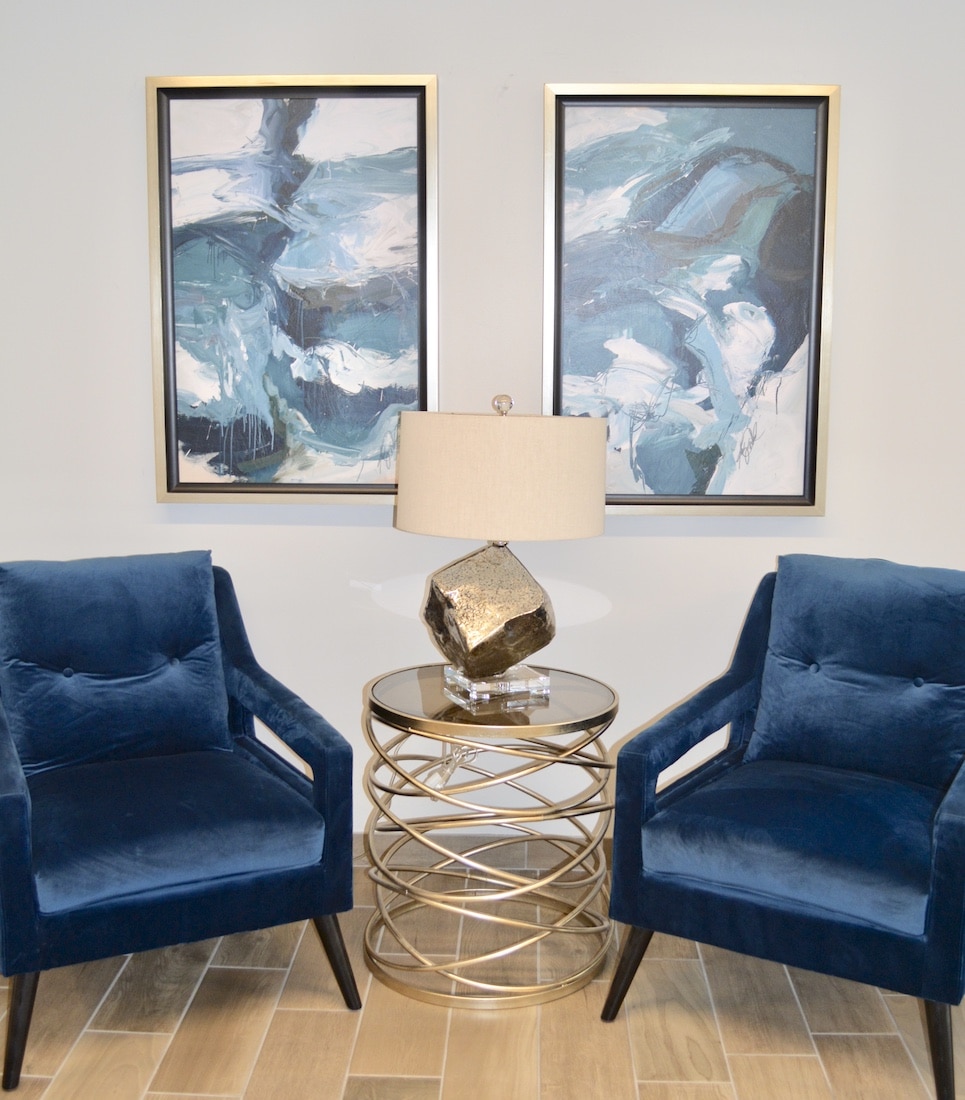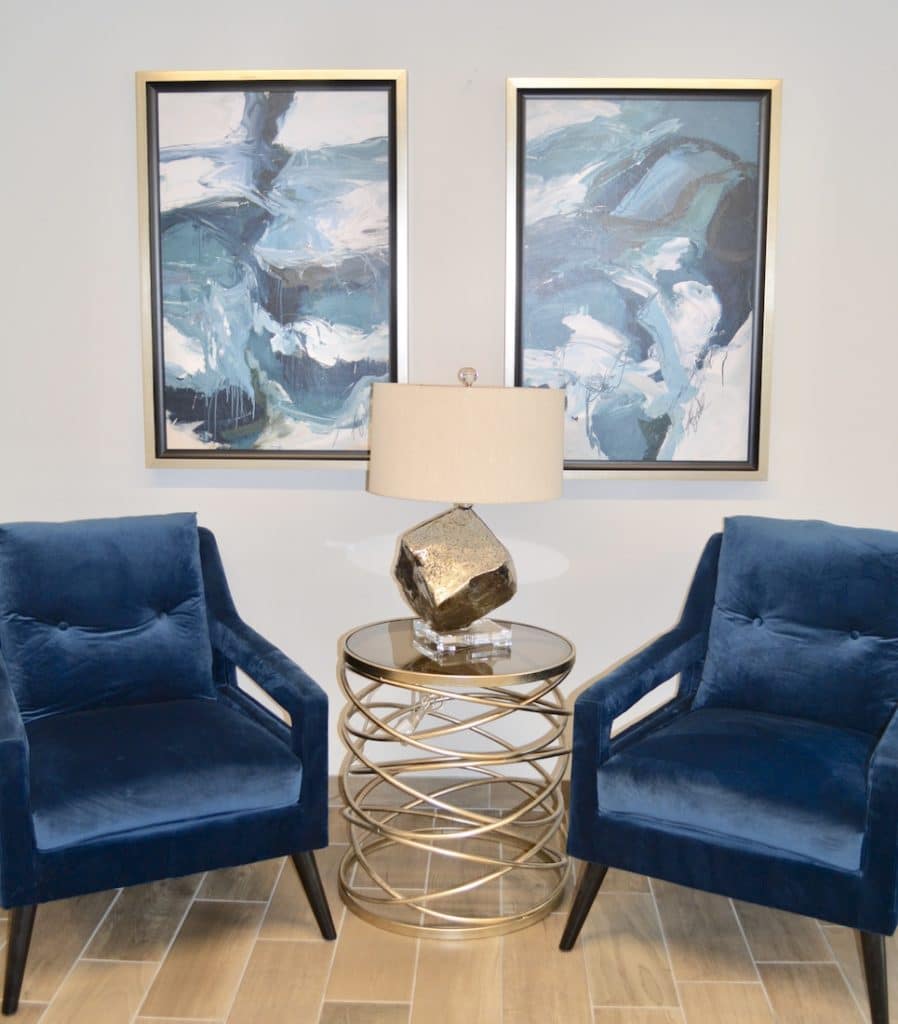 Have a long wall to fill? A set of two or three coordinating pieces makes an impact and finishes the look in a room with a large bare wall. In this neutral office space I brought in two blue velvet chairs and a set of two coordinating canvases in floating silver frames.
Most of my clients are requesting art with blue, because blue is a very popular and classic color. (See Blue: 2020 Interior Design Color of the Year.) But I have access of hundreds of canvas in a wide variety of colors. If you need some help finding the perfect piece of art, contact me. I would be glad to help!