So you are remodeling your kitchen? Or maybe you are building a new home and you are overwhelmed with all the decisions. There are so many choices when it comes to counters but even more when you look at tile for your kitchen backsplash. But it doesn't have to be overwhelming.
First of all, keep it simple. I have clients tell me they don't want their backsplash to be "boring." I say "Yes, you do." A classic and timeless backsplash will be in style for years and years. My advice is to find the most gorgeous countertop that you can afford and let your classic backsplash shine behind it.
What not to do
Below is an example of a "non-boring" backsplash. If you install this backsplash you will always be tied to brown in your color scheme. Today most kitchens are open to the family rooms and it looks best if the colors flow into each room. In an open floor plan, there should be some large areas of brown in the family room like a sofa or dark stained cabinets to make this kitchen seem relevant. The brown trend was 2000-2010.
When you are installing your counter, tell the installer that you do not want a 4 inch lip or "splash" as in the photo above. It looks much better to install your kitchen backsplash directly on top of the countertop.
An aesthetically pleasing kitchen only needs one busy pattern. At most you can have one busy pattern and one subtle pattern. In the photo above the pattern and color of the pink beige travertine competes with the busy black and gold pattern in the granite. The brown accent tiles bring in a third pattern. If there is a travertine floor that would be a fourth pattern. In my opinion it is too much. And the undertones clash.
What Makes an Appealing Kitchen Backsplash?
The current trend for counters is marble or quartz that looks like marble. Quartzite is also popular, but more expensive than marble and man-made quartz. See my blog post about choosing a countertop to understand the difference between the two. With most marble-like countertops the pattern is subtle and the undertone is white or off-white so a white or off-white tile is often the best choice for your kitchen backsplash. And bonus – most white subway tile is inexpensive!
Hand Formed Tiles
If you aren't a fan of classic subway tile and you have a little bigger budget, take a look at the hand cut square tiles. Each one is unique and adds a very subtle pattern to your kitchen backsplash. It is a nice contrast to the dark counter below.
Another option if you have a good sized budget is to install the same marble or quartz that you used as your counter as your backsplash. It is a beautiful and dramatic look.
Marble tile is also a good backsplash if it is the same marble as the counter or if the counter is a solid white quartz. For example, if you have a calacatta marble counter and a carrara marble backsplash the undertones will clash.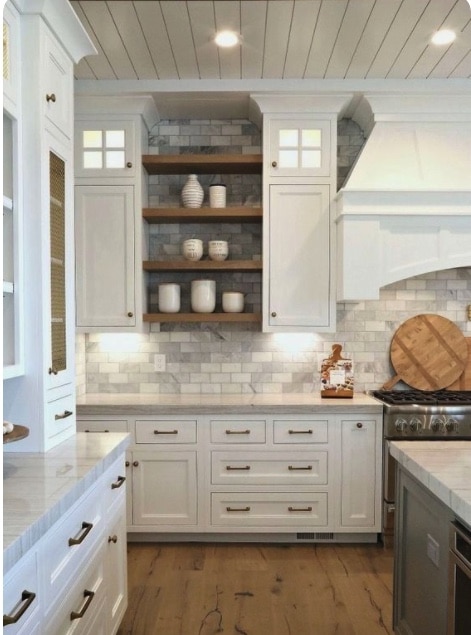 Interesting Tile Pattern
For a modern look use 4×12 tile and "stack" it horizontally or vertically. Using a contrasting grout really makes the tile standout.
Contrasting Grout
Or you could install white tile with gray grout. The herringbone pattern in this kitchen backsplash below really stands out with the contrasting grout.
Styling
If you have a beautiful counter and simple complimentary backsplash, you can bring it to life with styling. For example, in a white kitchen you can lean some wood cutting boards against the backsplash to warm up the space. Or you can bring in colorful bowls or pottery. Small artwork in the kitchen is also a popular idea. Plants are another way to add life to the kitchen.
Accent Tile?
Feel the need to add an accent tile behind the stove? Just say no! If you ask most homeowners if they still like their accent tile after 5 years most will say no. If you really want it, keep the tile the same color and just lay it in a different pattern and put a pencil tile "frame" around it like in the photo below.
Color!
Love color? Instead of using color in the backsplash, I would recommend color on the cabinets like this gorgeous hunter green in the photos below. (Yes, hunter green of the 90's is making a comeback!) Replacing tile and counters is expensive, painting your cabinets is much more affordable. Adding a pop of color to your island like in the photos at the top of the page can also make a big impact in a kitchen.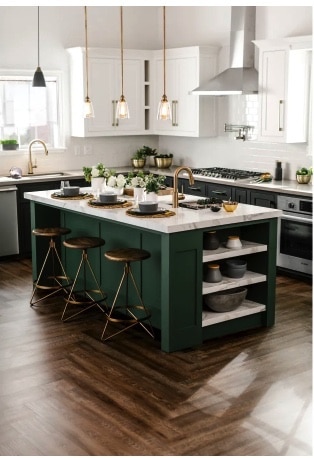 Still unsure? Contact me for a free 15 minute consultation. A kitchen remodel is a big investment. Hiring a designer to help makes the process less stressful and can save you from costly mistakes.