Are y'all ready for Thanksgiving? I'm not. Never am. I enjoy the time with my family – don't get me wrong. It is just a lot of pressure. Now that I am a grown up I am the one who hosts it for my extended family. I think my mother is tired of doing it and I should be honored that she passed the baton to me, but I get nervous that I will overcook the turkey or mess up my great great grandmother's stuffing recipe. And I might. But hopefully the Thanksgiving table will look great and my home will feel warm and inviting. That is more important to me than the food. I believe if your house looks good, the food will taste better.
A Natural Look
It was time to change up the decorations on my Thanksgiving table. The photo above from the Pottery Barn catalog caught my eye. I normally keep it pretty modern but I have been inspired by natural greenery that has become such an important part of contemporary decor. I bought a Eucalyptus artificial garland by Hearth and Home to put on my table and some pie pumpkins for a $1.93 each at my grocery store. And I threw in some mini white pumpkins.
I usually use white plates, but they seemed too stark with the earthy tones of the greenery and pumpkins. I decided to pull out my old Lenox cream and gold china that we got as wedding gifts. No one will know these babies are 25 years old. (Brides: always go with classic china patterns!) I still can't believe I have been married long enough to have vintage china! Then I brought in some gold candlesticks and some funky gold chargers that I bought on a whim at Homegoods a couple of years ago because I still needed a little more gold on the table.
Then I took a photo of the table so I could write about decorating my Thanksgiving table and share it with my fabulous followers. Y'all, photos don't lie. Suddenly I realized it was boring and blah. The orange in the pumpkins was too much contrast with the muted green of the eucalyptus garland and cream pumpkins and plates.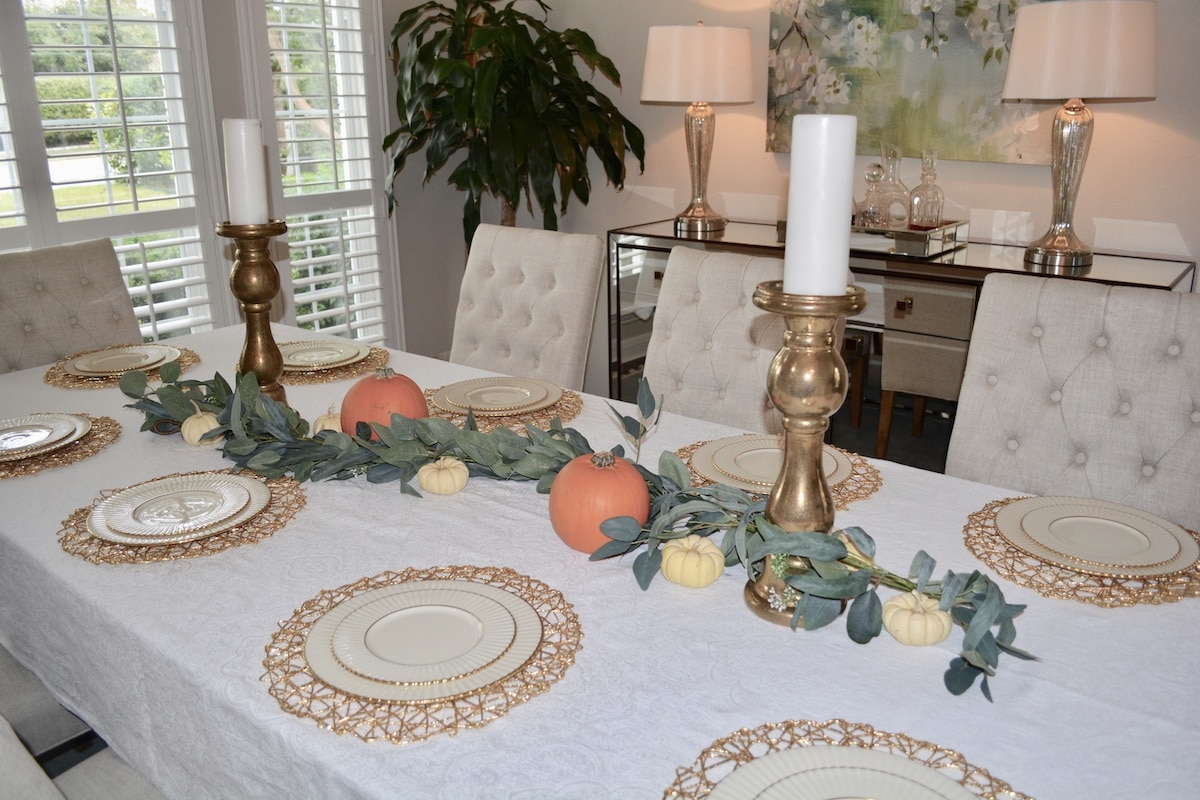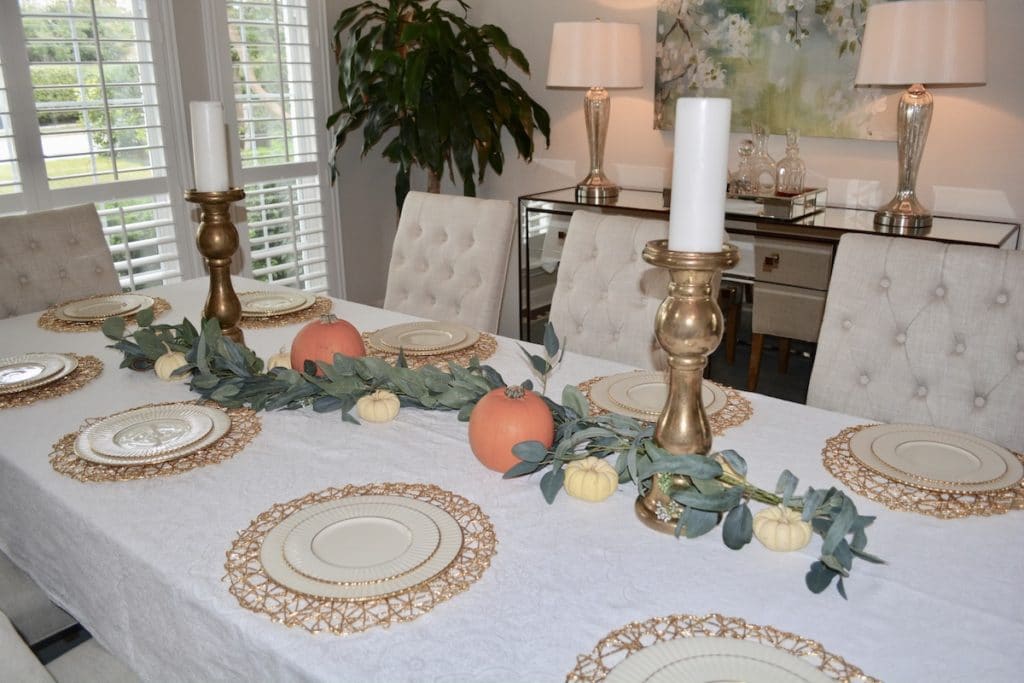 So I grabbed my gold spray paint. And in just a few minutes I had modern, gold pumpkins. The table arrangement needed some height in the middle so I found a squatty candlestick and painted that gold too. It looked pretty good, but I felt like it needed one more element. I went looking around my house for something to steal. (You don't always have to buy new stuff when you decorate – sometimes you just need to move stuff around.) I found some small deer antlers in my son's room that he had collected over the years. (No animals were harmed while decorating the Thanksgiving table- these are the antlers that deer naturally shed every year in the fall.) I tucked a few of the antlers in among the garland and pumpkins. It now looked full and complete.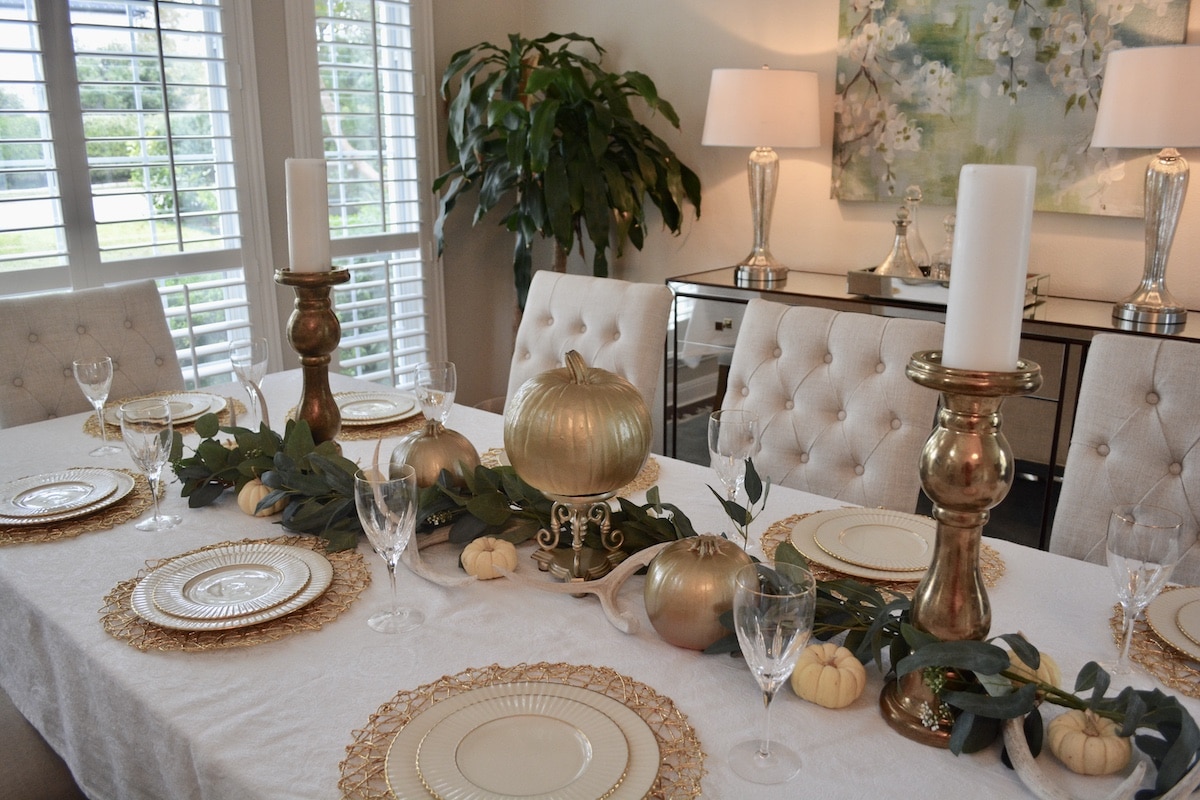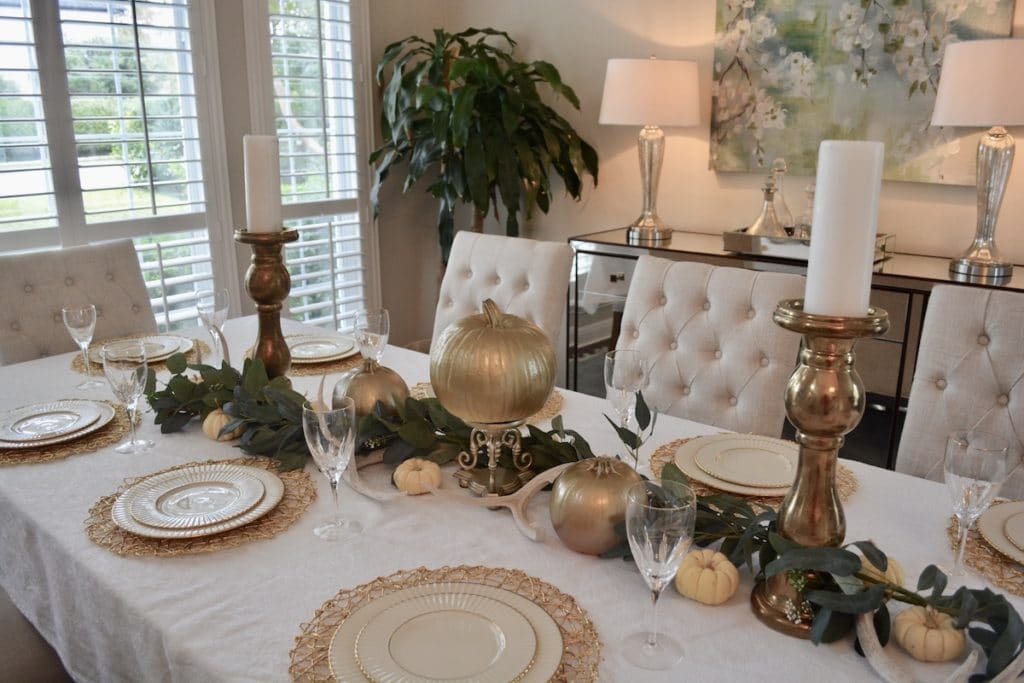 Now to find Great Grandma Ryan's stuffing recipe. And some wine. Good wine covers a multitude of cooking mistakes. Happy Thanksgiving to you all! I am truly grateful that I get to share my creations with you and hopefully inspire you in the process. Thanks for following along!