My house is decorated for Christmas. And for the first Christmas in the four years I have been in our house, I can say I really like it. The color palette for my home is navy blue, teal and a little bit of turquoise. My walls are a warm white and I have silver accessories. So every year when I bring in the artificial forest green tree and garland, it just doesn't look right with my blue decor. The forest green doesn't jive with cool blues. A flocked Christmas tree would lighten up the dark green. I brought up the idea of buying one last year and was out-voted by the family.
This year I didn't ask. I looked at buying a pre-lit flocked Christmas tree but they were more than I wanted to spend. And I like the size of my current tree. It is tall and narrow and fits in its designated space very well. I couldn't find a flocked tree that was the same size. So I bought some flocking on Amazon and decided to do it myself. All it took was time, a sifter, a spray bottle filled with water, a $25 bag of flocking and a ladder. This is the flocking I bought:
https://www.amazon.com/gp/product/B0766362WQ/ref=ppx_yo_dt_b_asin_title_o00_s00?ie=UTF8&psc=1
How to flock a tree
I wish I had thought to take pictures while I was doing it. But here is the process I followed: I put down a tarp in my garage, set up the tree on it, got on the ladder. I first sprayed the area I was working on with water. Then with the sifter half filled with flocking in one hand and the water bottle in the other, I sifted the flocking and lightly sprayed water as it fell on the limbs. That helped it to stick. The whole process took about an hour. It took four hours to dry and then we moved it in the house. It was a little messy but well worth it. I used the whole bag on my 8 foot tree and I would say the amount of flocking was light. If you want heavy flocking (mostly white tree) you should probably buy the five pound bag and give yourself more time.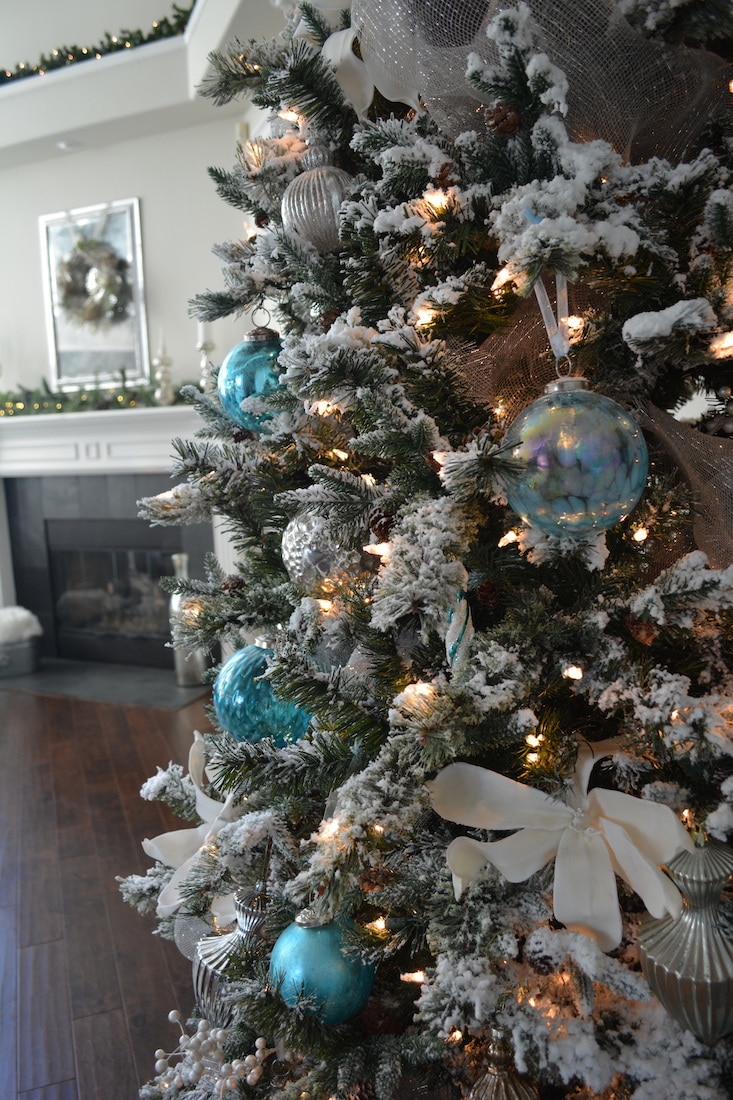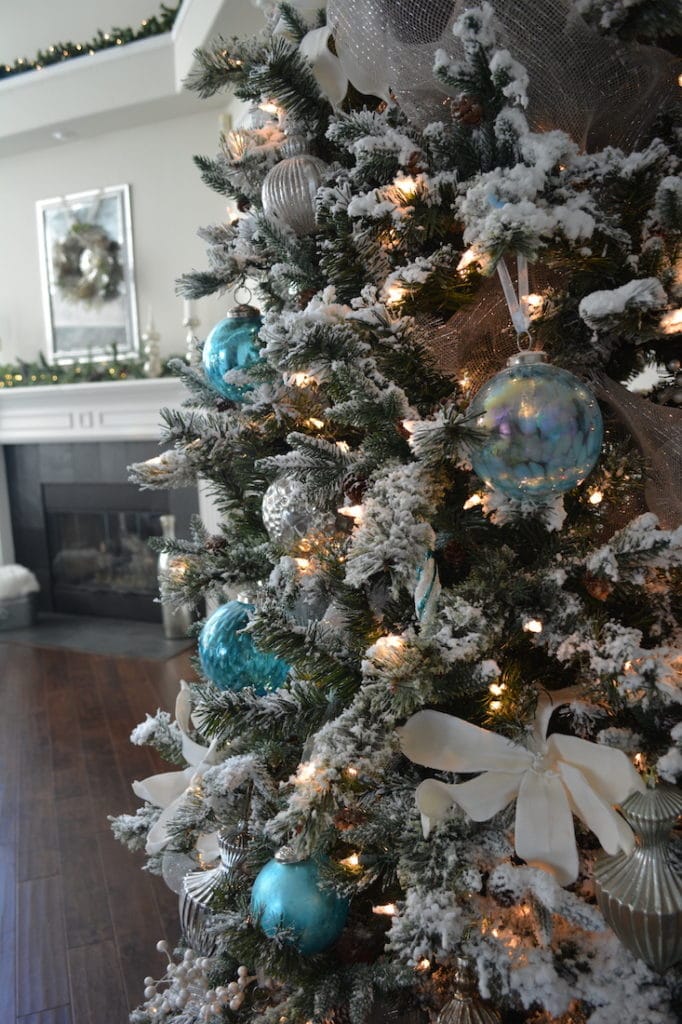 I added the same ornaments that I put on my tree last year, but it looks so much better with the flocking. I added silk magnolia blooms and white twigs to give it some texture and interest. And for a tree topper I used teal feathers and more white twigs that I found at the craft store.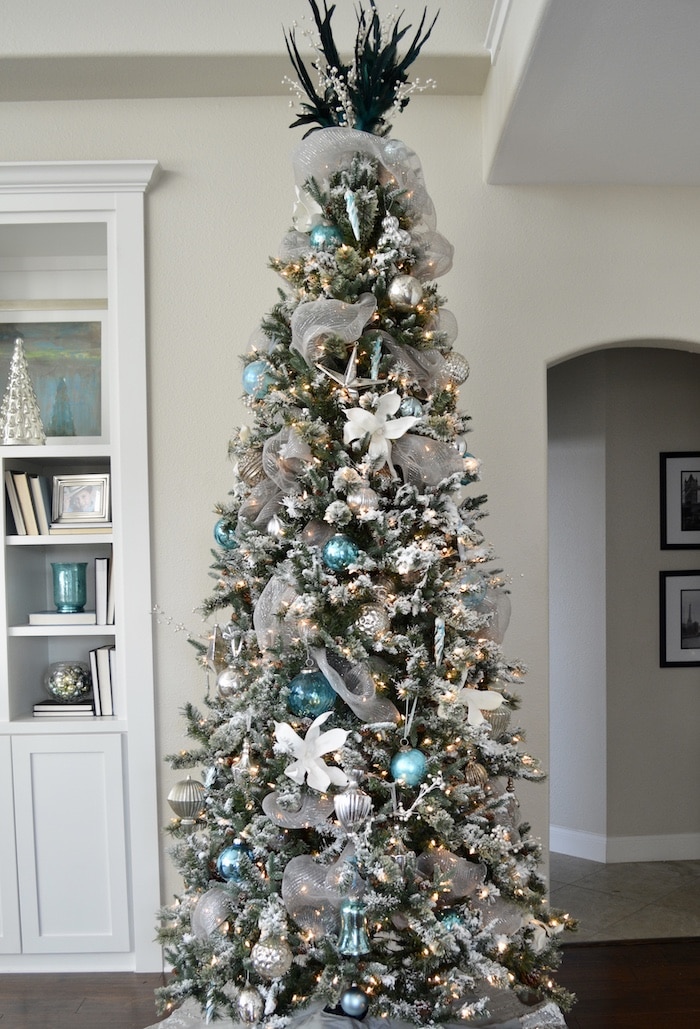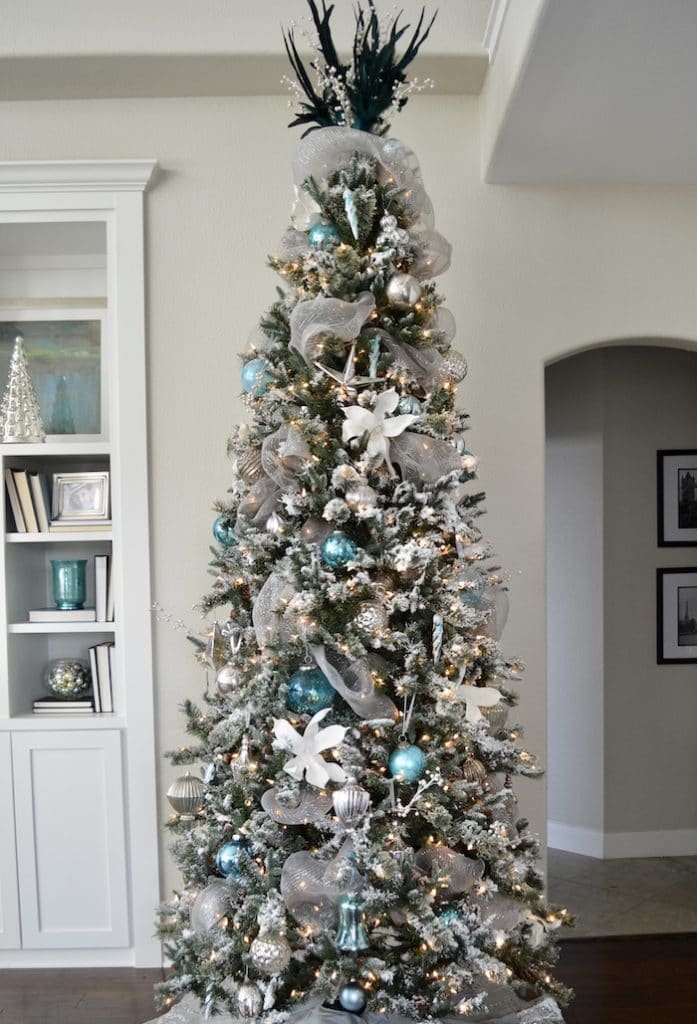 I chose not to flock the green garland I usually put on my banister because of the mess that would be, so I purchased some lightly flocked, pre-lit, pre-decorated garland from Amazon. It has ornaments on it that work perfectly with my blue Christmas decor. I was not sure that I would like it, but with free returns I had nothing to lose. It looks great and was a breeze to hang. I love the blue and silver ornaments and to already have it pre-lit – well, that saves hours of time. And time is a precious commodity this time of year!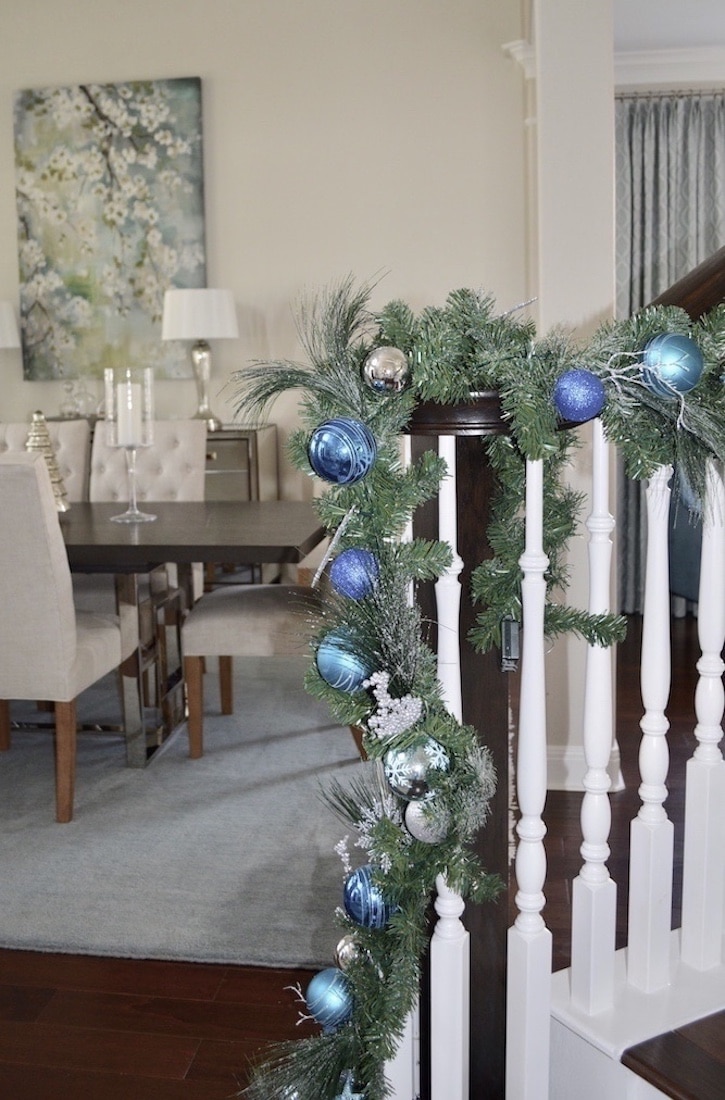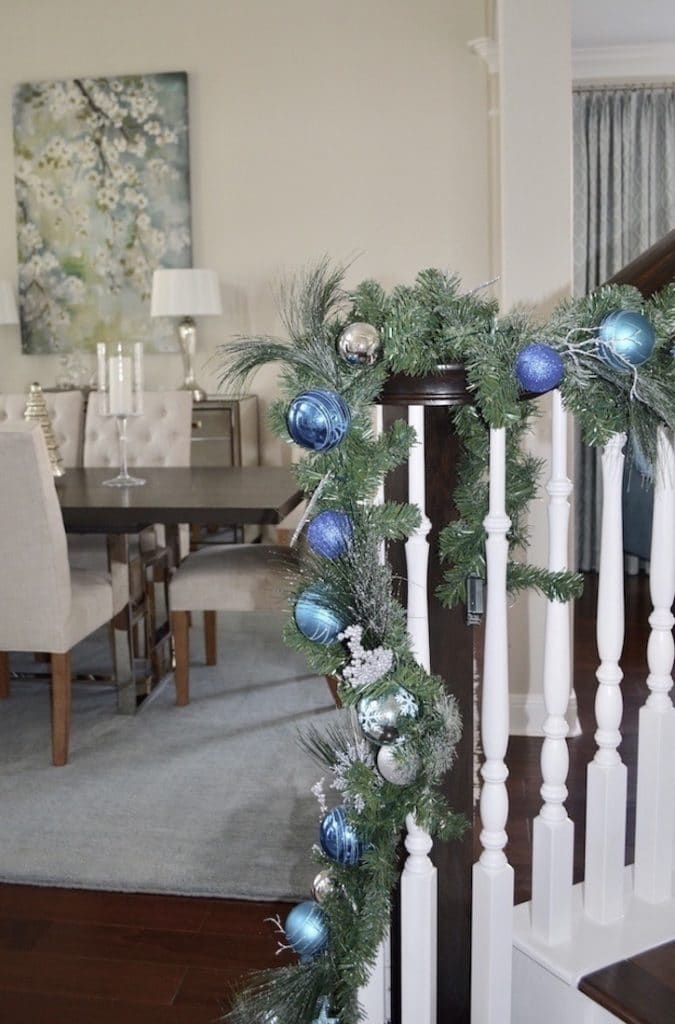 My family says the tree and new garland look great. I hope you think so too and feel inspired to make your tree exactly what you want it to be. But more importantly I pray you enjoy this season with your people and experience the love of our Lord and Savior who gave us a reason to celebrate.
If you are ready to make some decor changes in the new year, schedule a free consultation to get started! I look forward to hearing from you!