In the minds of my teenage daughters pairing navy blue and black is a major fashion faux pas. In interior decor this is definitely not true. Navy blue is a popular color trend that is still going strong because it complements so many colors. If your house is stuck in the brown/beige trend you can update it with navy. Do you have mostly gray and want to add some color? Bring on the navy. Have a new build with fresh white walls with black windows, add some navy. And when did black ever go out of style?
The Versatility of Navy
I have a client whose home is a perfect example of how versatile navy is. When I first met Naomi she and her husband had just added on to their house and she needed help accessorizing. Their formally Tuscan living room still had Travertine floors and a dark brown leather sofa. The room needed color. I brought in a navy rug, some navy and white throw pillows. We covered the custom Taylor King Larson swivel chairs in a Lee Jofa navy and oatmeal linen trellis pattern.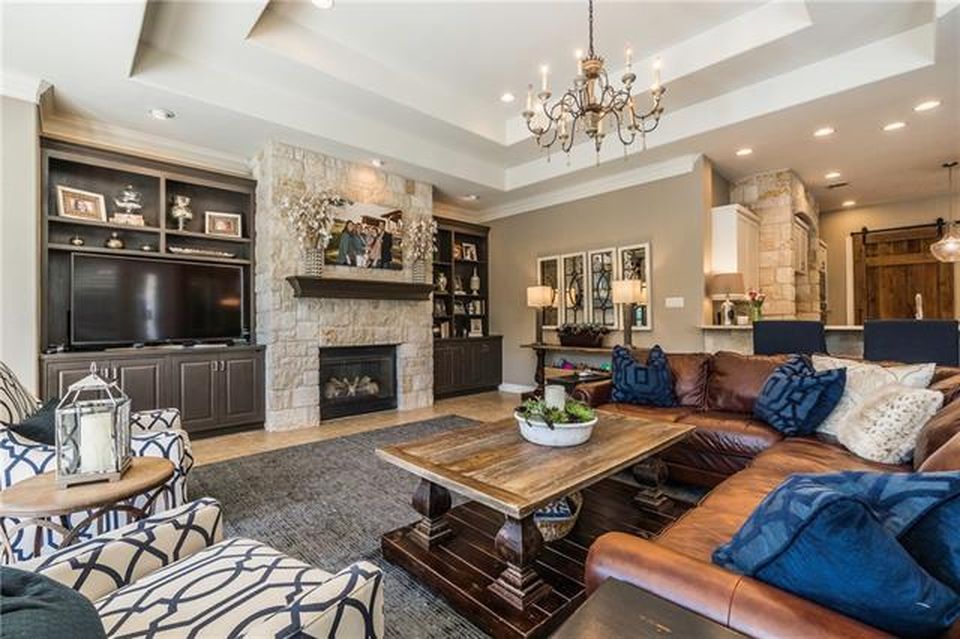 Fast forward five years when Naomi calls again. She is building a new house and gets to start with a blank slate. Because navy is so classic, she still loves it and wants to keep the navy rug we bought five years ago.

Design Plan Before Color Selection
Since the kitchen was open to the family room, we had to create a design plan before selecting colors and finishes. We followed my Decorating Checklist and picked some white throw pillows to go with the rug and a new gray crushed velvet sofa fabric. Now we had a color palette: navy, gray, white, and the Windsor Vanilla of the leather recliners.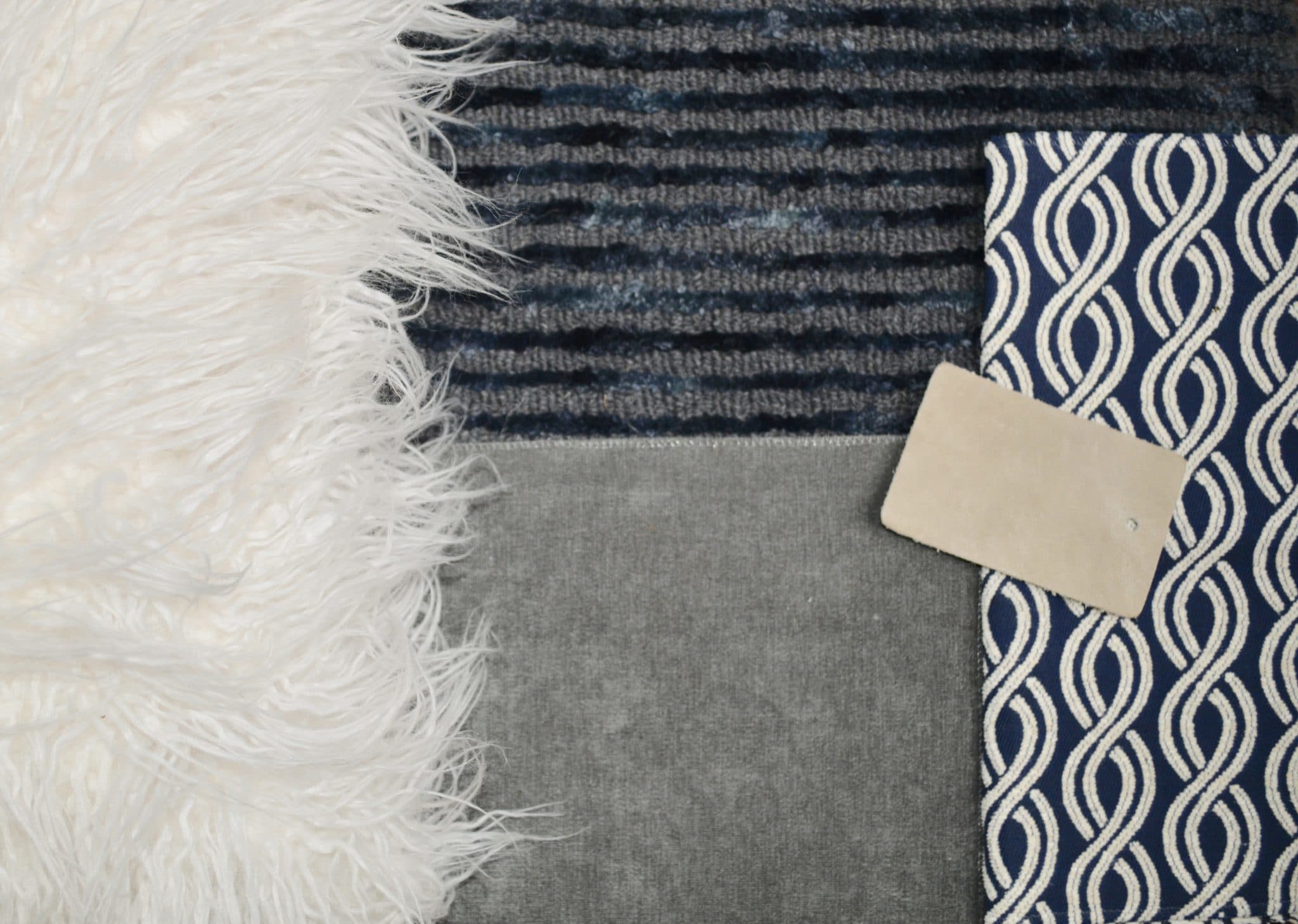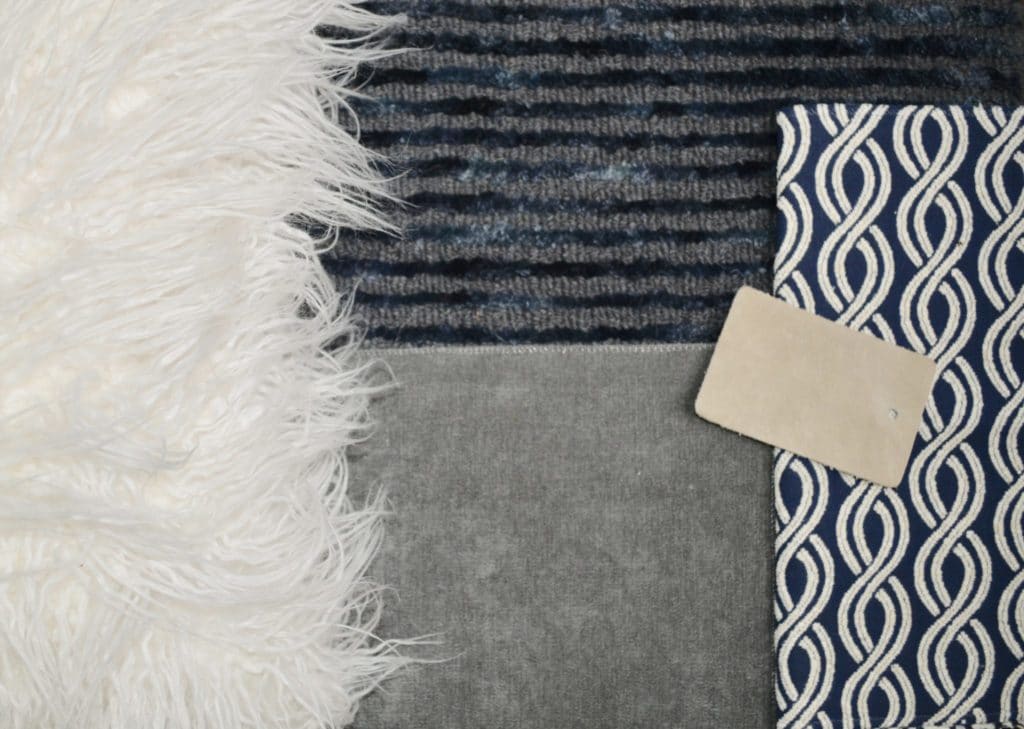 I wanted to bring in a little black to complete the color palette. The family room has a two story vaulted ceiling and fireplace so to give the room a little drama we chose a black stacked ledge stone for the fireplace surround and took it all the way to the ceiling. A light oak custom built mantel makes it feel homey and allows for accessorizing.

Now that we had a color palette, we could choose the fixed finishes with confidence. She wanted a classic white kitchen so we went with a white quartz with subtle black veining for the kitchen counter and 3×6 subway tile backsplash in a herringbone pattern with white grout. We choose a light oak wood floor with gray undertones. Normally I pick the paint last but the builder wanted to check off all of his boxes and that included wall and trim colors. We had to choose from the paint they used which was PPG. We went with a warm gray called Whiskers.
Adding Black to Complete Color Palette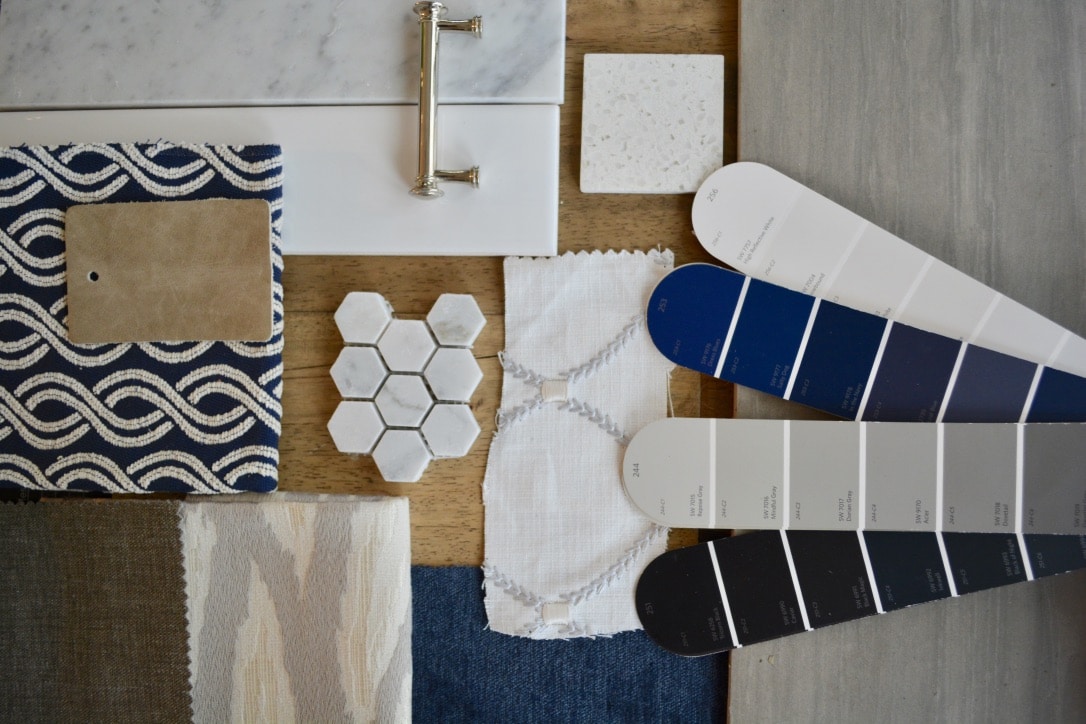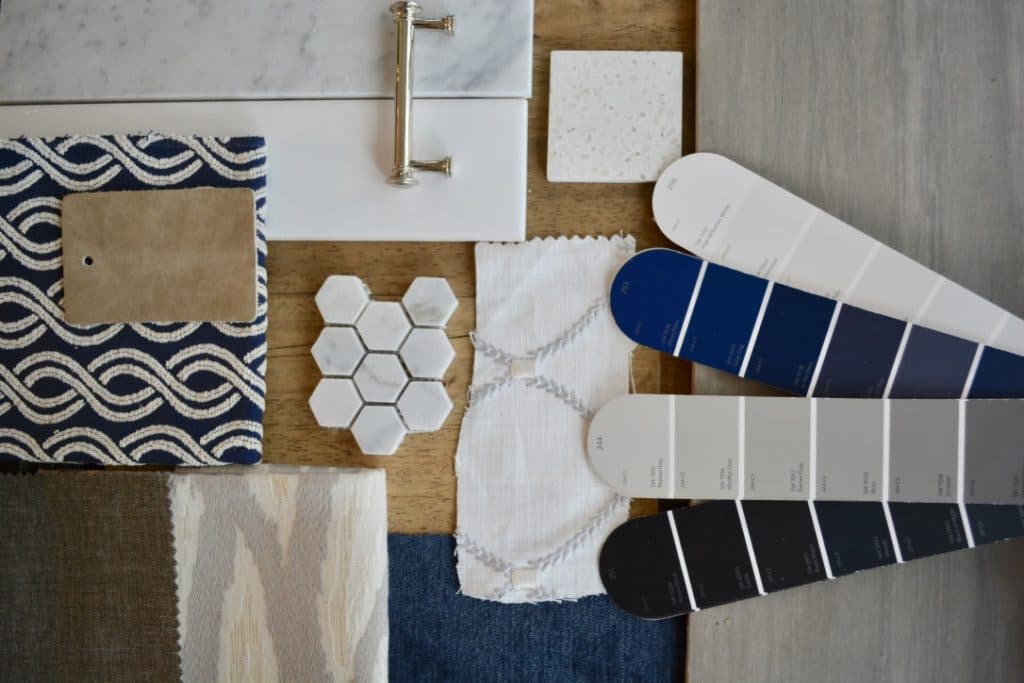 With such a large part of the room black because of the fireplace stone, we needed to add a little more black to make it feel balanced. A black coffee table with gold legs called the Theodore Table by Gabby Home did the trick. I loved how the gold legs looked on top of the navy rug, so I knew we needed more gold accents in the room to go with the coffee table. I found some gold lamps and added antique gold hardware to all the cabinetry. To help Naomi and her husband visualize the family room I had in my head, I created a rendering.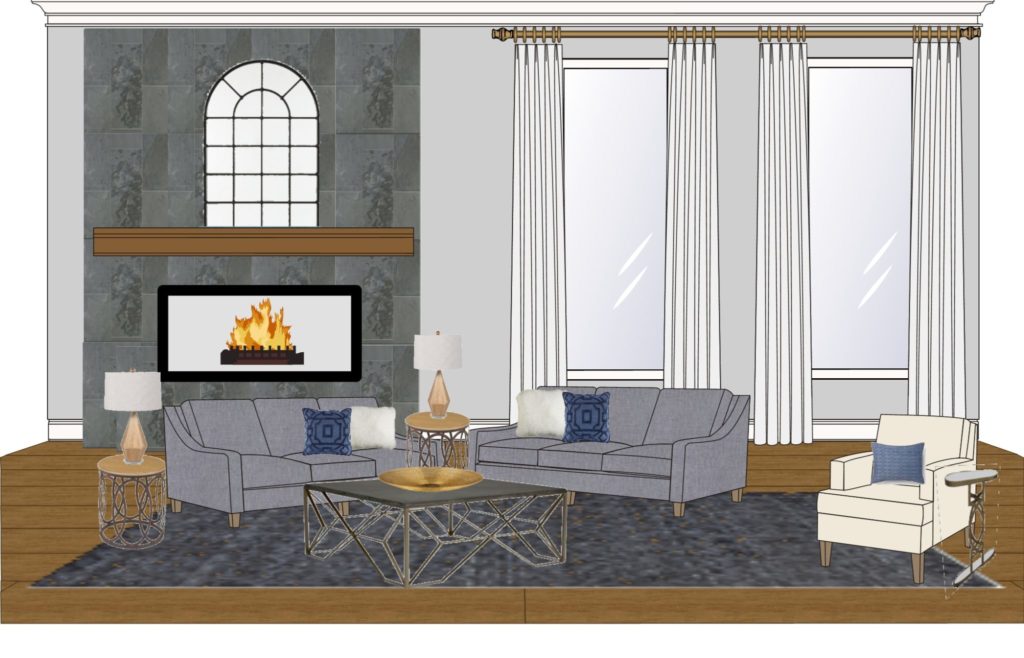 We had a large bank of windows to cover and needed to bring in more white so we had five white embroidered linen panels made for the antique gold drapery rod. Originally we were going to use a drapery fabric with more pattern but because the drapes were so long, I felt like simple white drapes would suit the room better.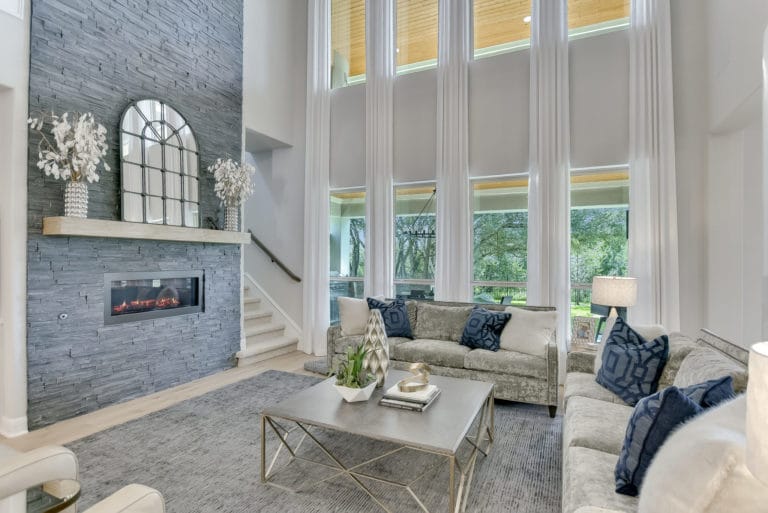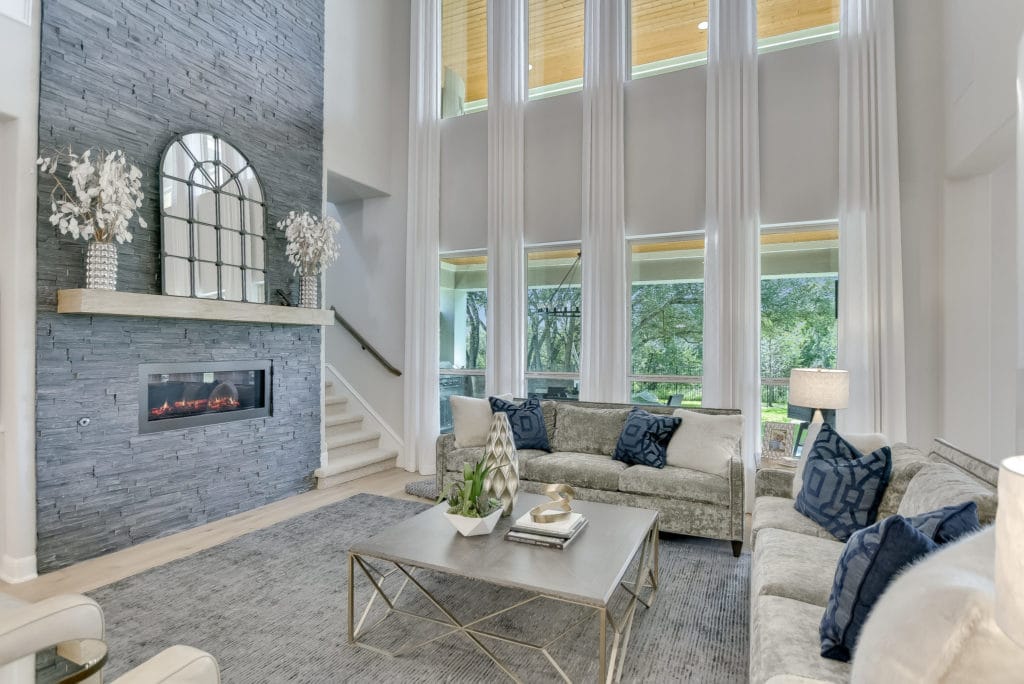 Adjacent and open to the family room is a conservatory with a built in wine bar. It didn't need a true backsplash so we added some almost black grasscloth to balance out the black stone fireplace that is on the opposite side of the great room. The Nyla Rug by Loloi with a subtle gray and black pattern grounds the room.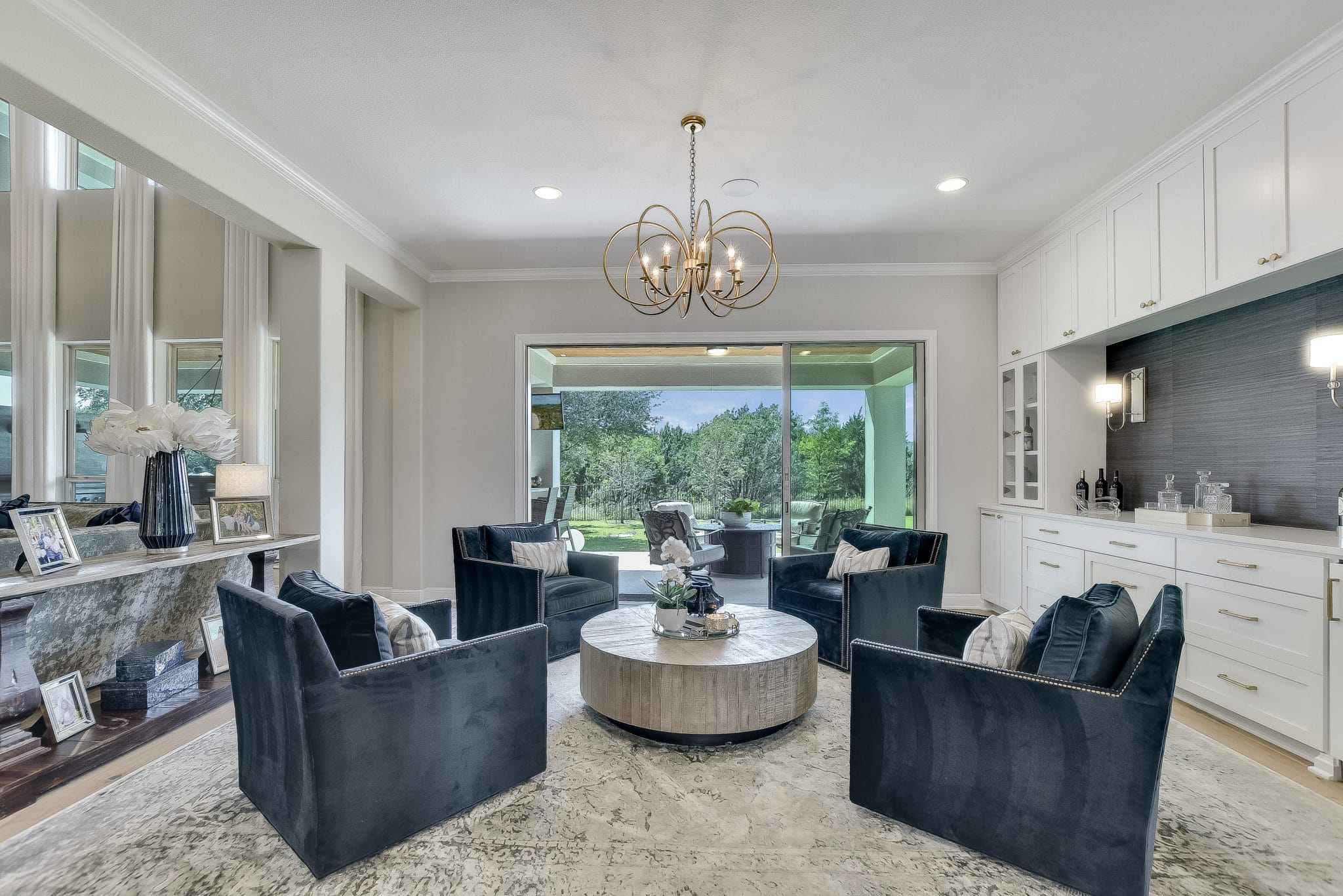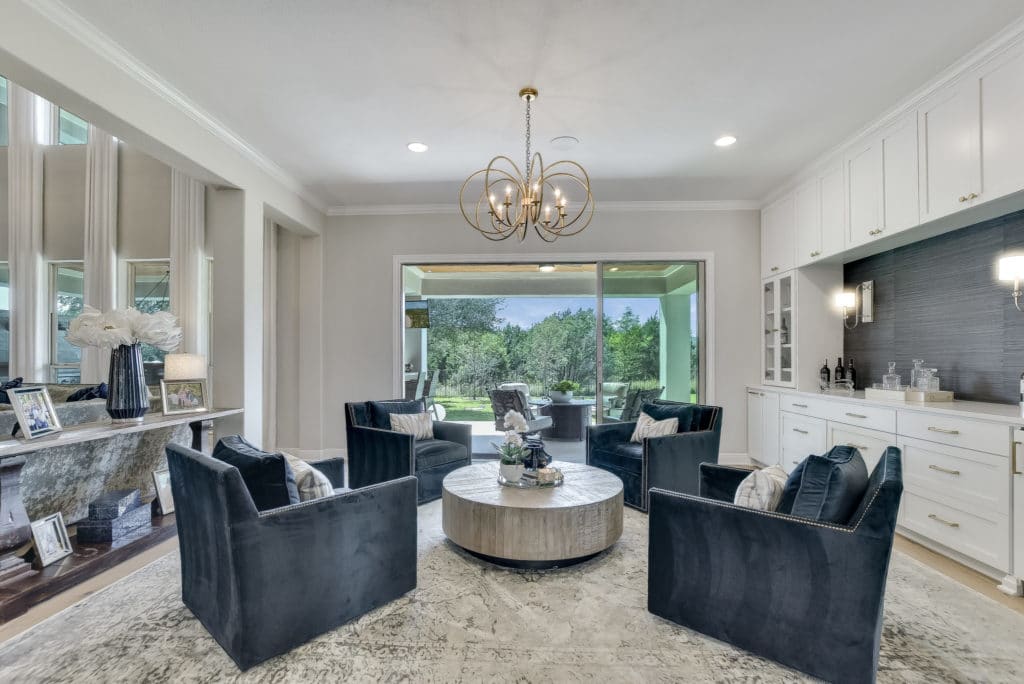 With four Gabby Carter swivel chairs upholstered in navy around the Colton coffee table, the conservatory is super cozy and one of my favorite rooms of the house. I love the Master bedroom, where we did a board and batten wall in Hale Navy by Benjamin Moore behind the bed. It looks amazing! Take a look.