I believe your bedroom should be your sanctuary – after all it is where you spend the majority of your day – even if you are just sleeping. Waking up to a clean, beautiful room inspires me to be productive. Often I see clients put their master bedroom last on their decorating list, because "no one sees it."

"But YOU see it every day," I remind them. If there is something about your bedroom that is not working for you, change it. Don't just live with it because no one else sees it. Maybe the bed is too large or too small. Maybe you don't have the right size nightstands to go with your bed or any nightstands at all. Or maybe you need some window treatments to block out the morning sun.

A Bedroom Transformation
Jodi had a beautiful bedroom with off-white walls and stained wood trim but worn out carpet and ornate Tuscan furniture that had seen better days. She wanted something modern. We chose a light greige carpet with some variation and texture. There are windows at the top of the wall where the bed would go so we went for an upholstered bed with a high headboard. It added drama and filled up the wall space between the bed and the windows. We also needed fabric on the bed that was pet friendly since her cat and dog like to sleep in her room at night.  A Nina bed from Zgallerie, customized in a gray velvet with a white fur-like blanket and navy blue duvet and shams was the perfect solution.
Then we brought in some pattern with the throw pillows. The Omni mirrored nightstands keep the room light and add a modern touch. Her husband is an avid reader and loves to read in bed so I brought in adjustable brushed gold task lamps. I love the way they look on the nightstand. To contain all of her husband's books we ordered the Marlin bookcase. I purchased a few blue and gold accessories to add to her husband's book collection and styled the bookcase.

To complete the large room we added two velvet chairs with an accent table and lamp. This makes for a great getaway for my clients to have some alone time at the end of the day. A large piece of modern abstract art will go behind the chairs. Here is the rendering that I presented to Jodi to help her visualize my recommendations: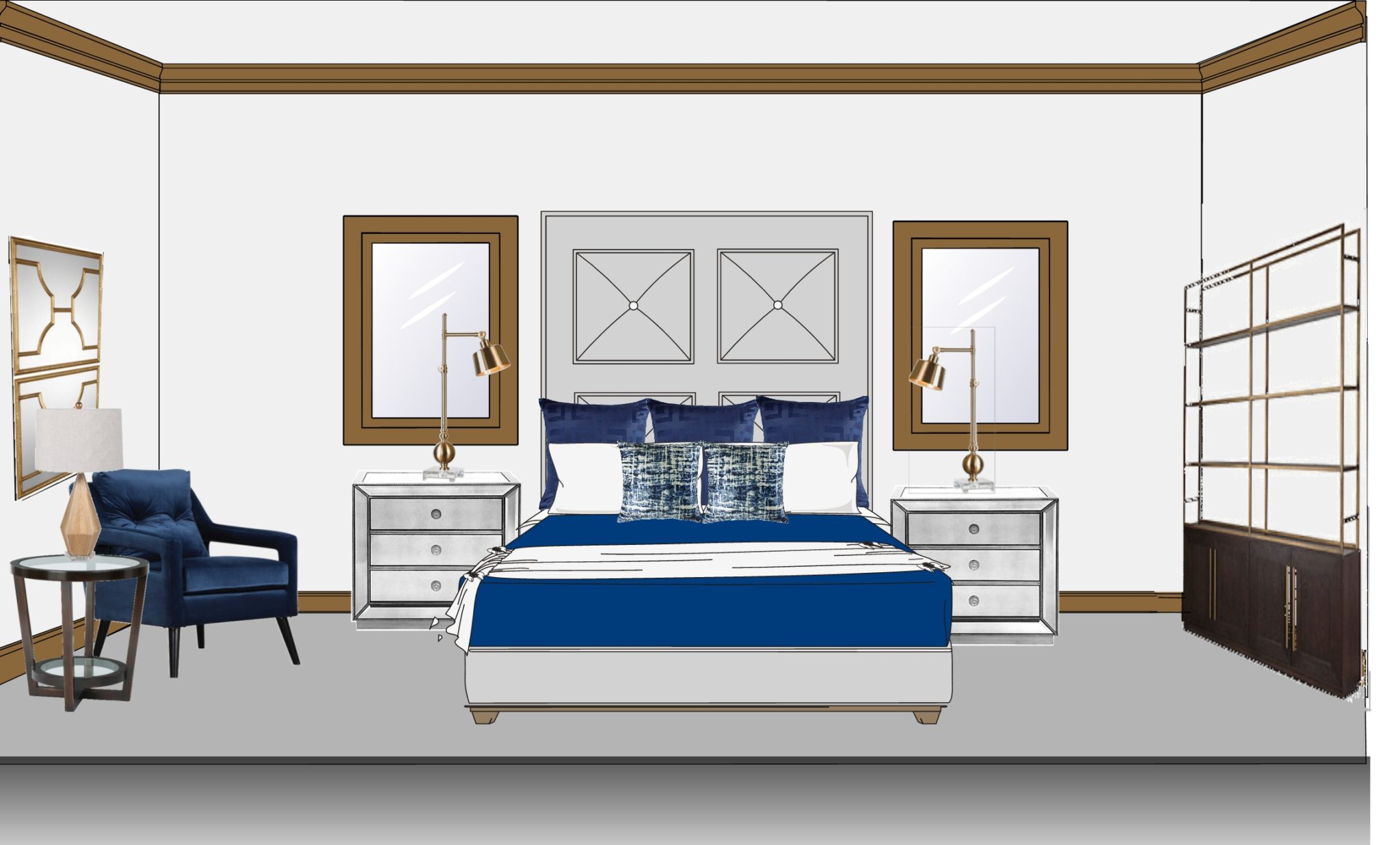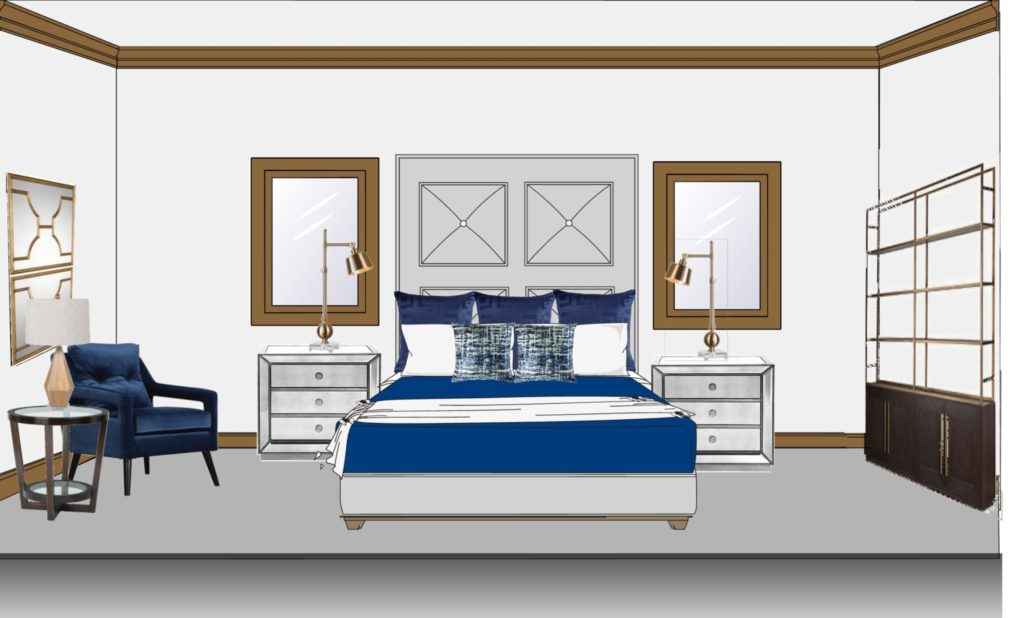 Here is a photo of the final product: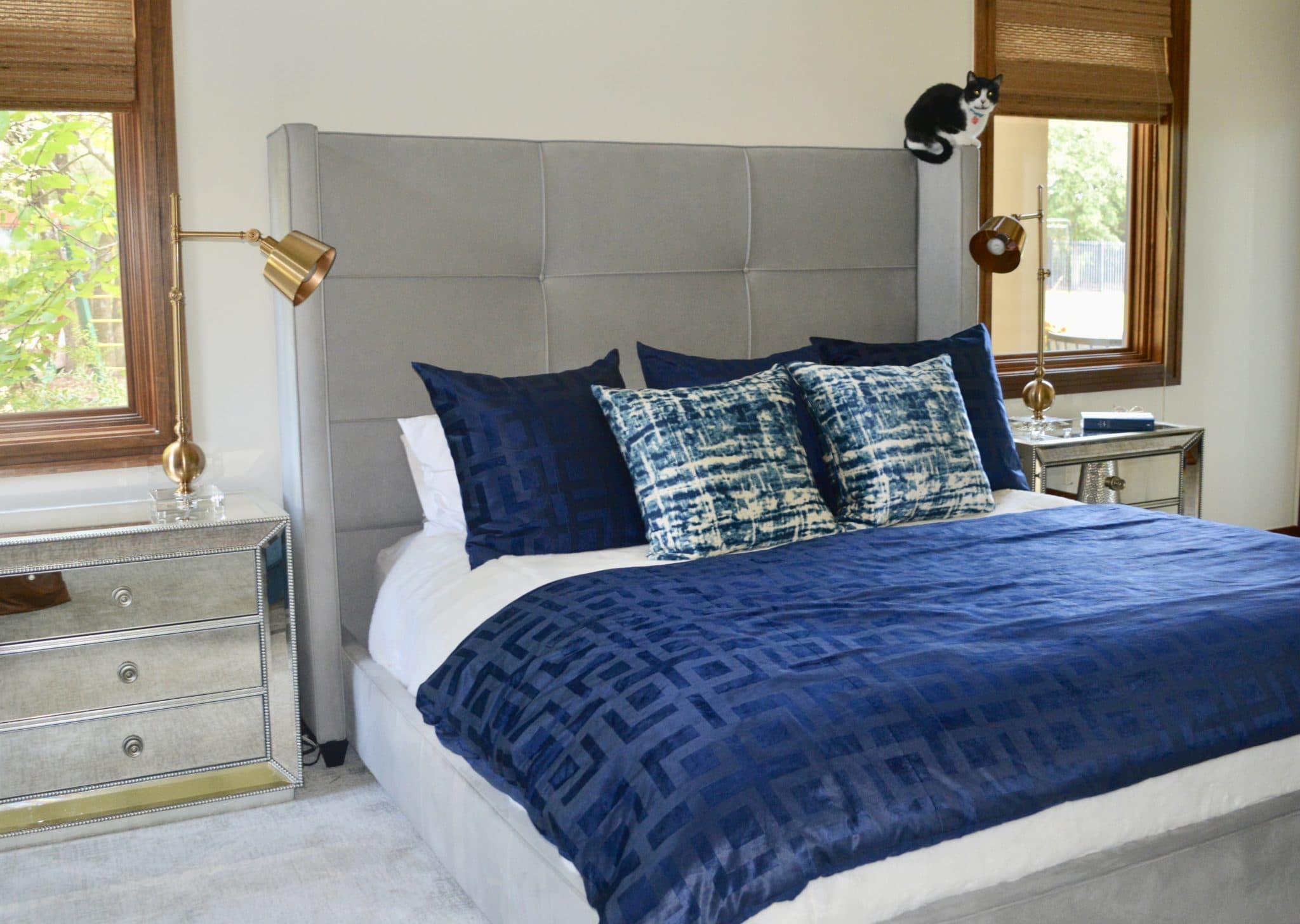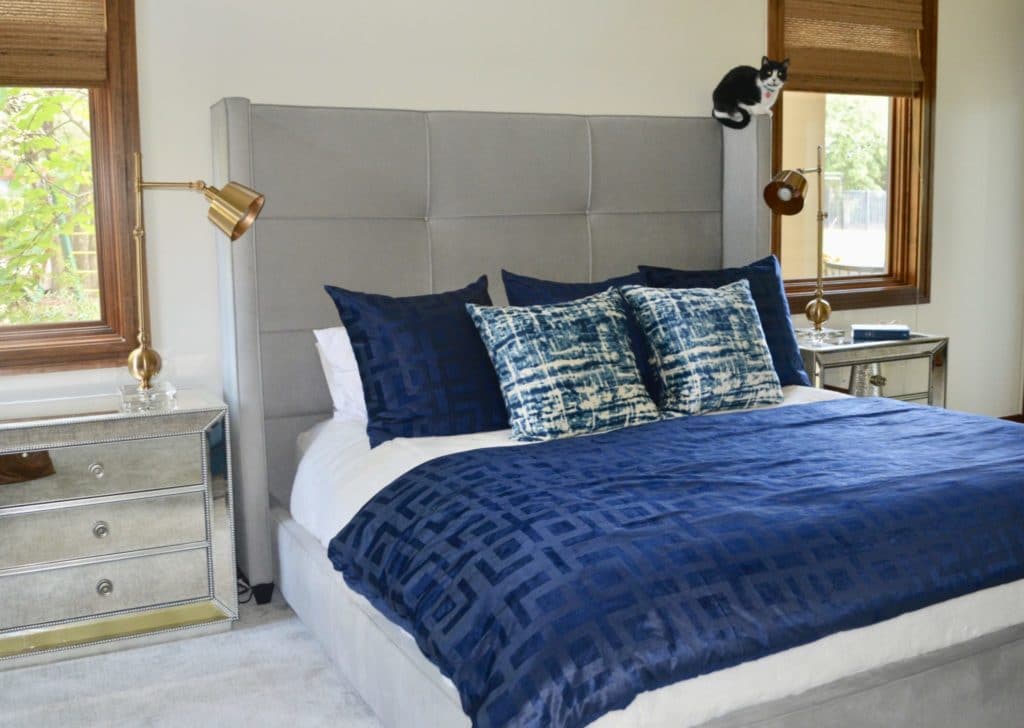 Pleased She Made Master a Priority
My client still wants to do some updating in her family room but she is so glad she made redecorating her master bedroom a priority. She has a feeling of contentment when she walks into it at night and is ready to take on the day every morning.

What next steps do you need to take to make your bedroom a retreat, a place where you want to spend your time? View my Design Services to see if I can help you create a bedroom that inspires.