Many companies are allowing their employees to work from home now. It is great for so many reasons – less time in the car, more time with your family, more flexibility in your day, etc. But is your home office inviting and inspiring? If you have to do work, why not do it in a beautifully decorated, organized home office?
When we first moved into our new home, I decided to use my husband's old dark stained bookshelves shelves and his large, mahogany writing desk in my new office. The room had shutters so it was dark. I needed a lamp on my desk but there was no floor plug so there was a cord running across the room. I also had no place for a much needed filing cabinet. The room frustrated me. It kept me from being productive and creative and I dreaded working in that room. I would often take my work to the kitchen where it was bright with a beautiful view.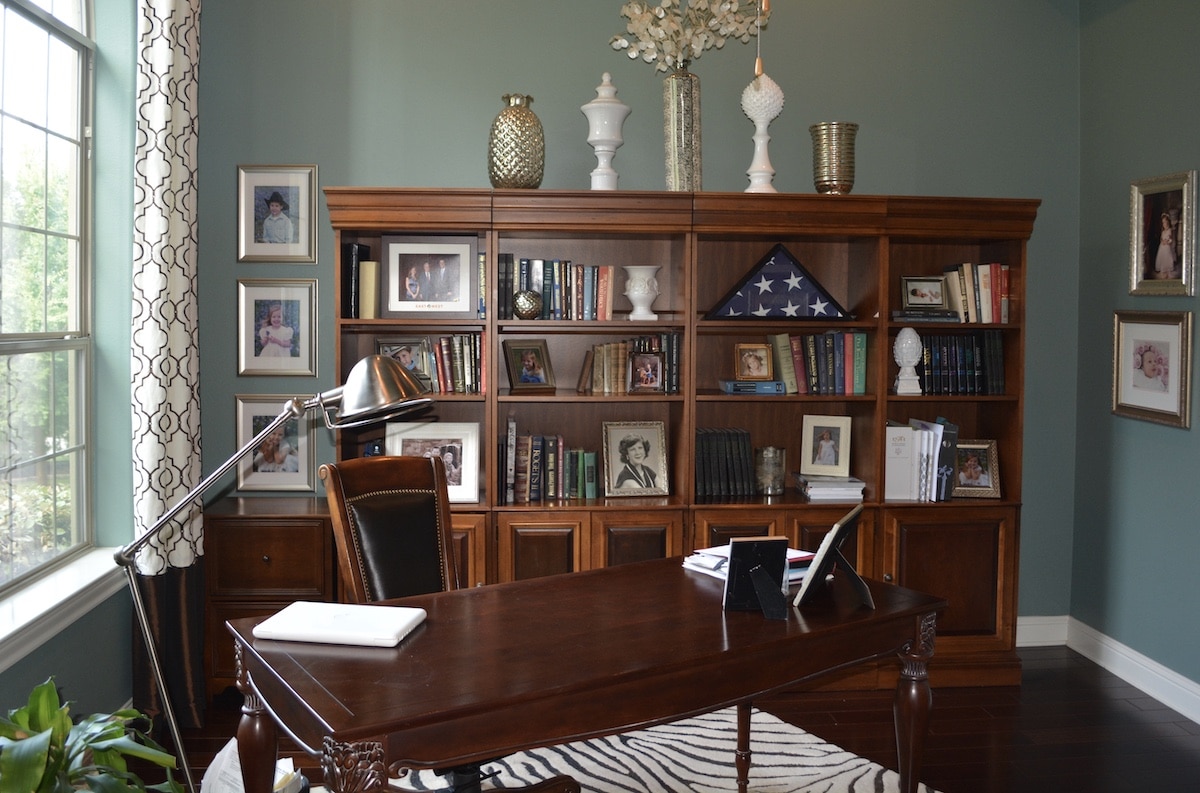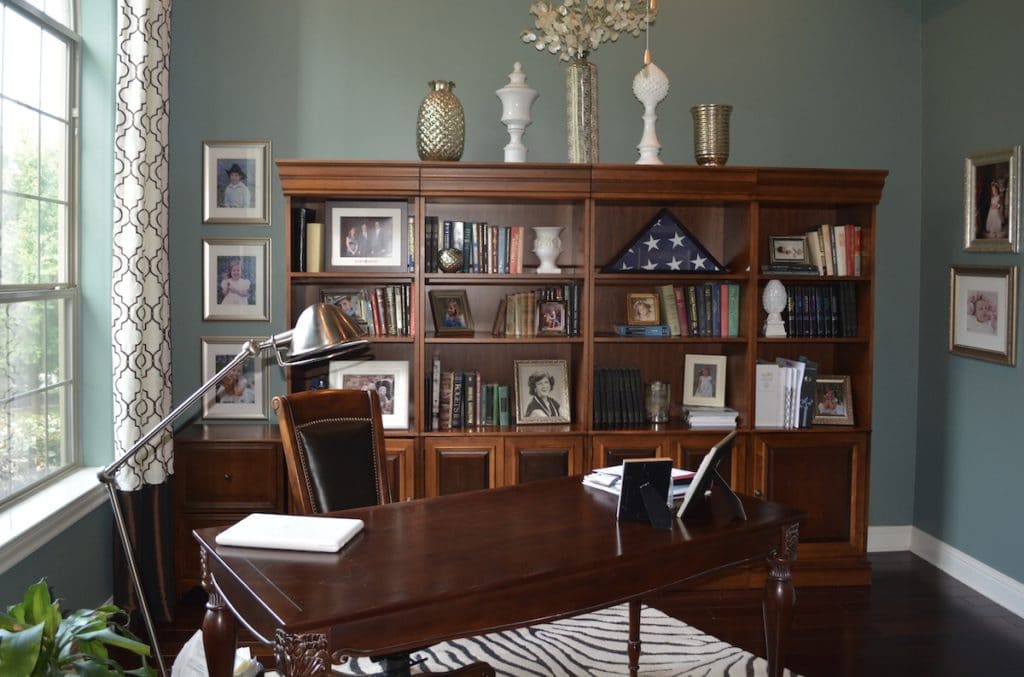 Something had to change. I didn't want to spend the money on built-in cabinets and the bookcases I had were in good shape. I decided to get out my trusty Annie Sloan Chalk Paint. A few hours later I had new blue bookshelves! I separated the set of bookshelves to make room for the Home Office Return Desk from Ballard Design. It has a zinc top which makes it really durable. It also has a filing cabinet which I needed badly. There are different options for the base: you can also do open shelving or doors.
New Bright & Inspiring Home Office Designs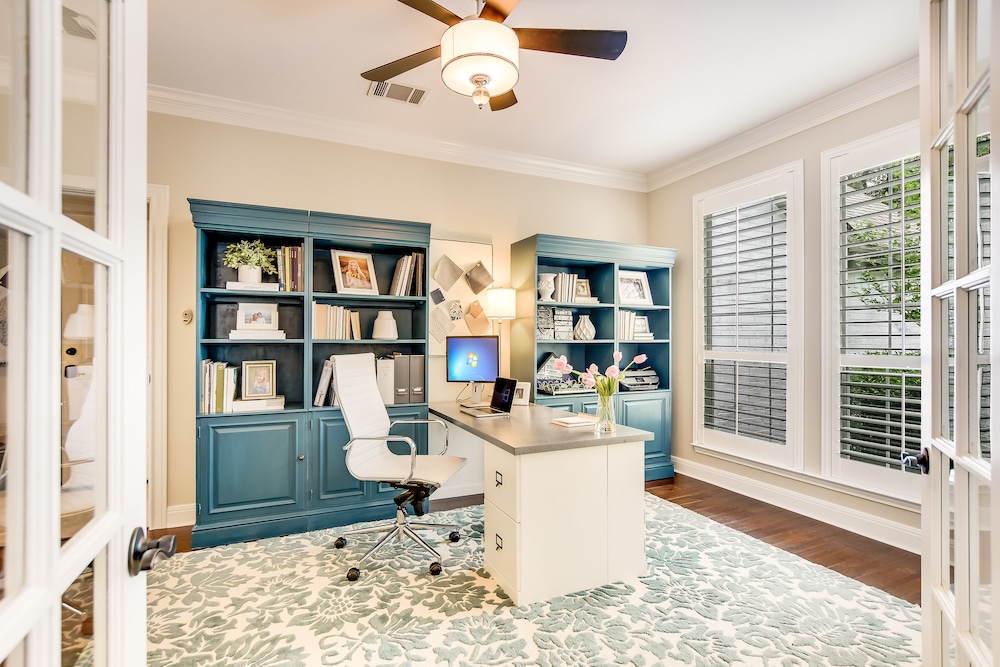 This new configuration created a lot more room in my office and allowed me to put a lamp and an extra monitor on my desk without cords showing. And now my desk faces the window, which I love. A bulletin board fills the space between the bookshelves. I like to add the fabrics to it that I am currently working with for quick access but also for inspiration. I keep my fabric books and catalogs on the shelves. My next project is to replace the fan with a pretty chandelier.
More Designs by Kristen Rinn Design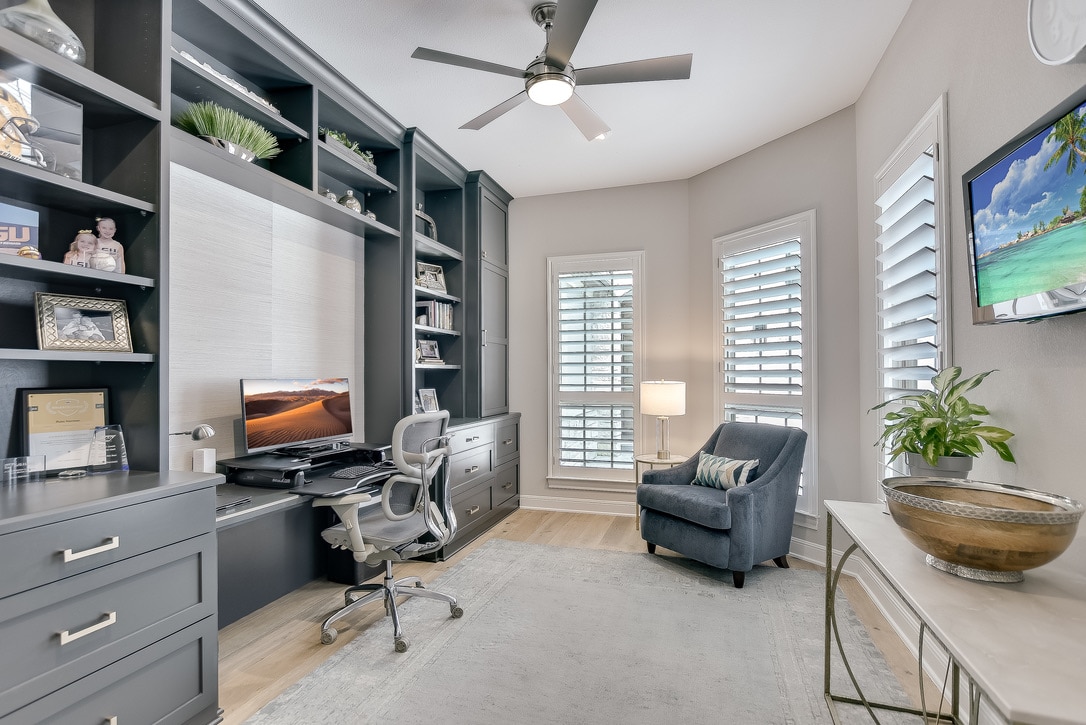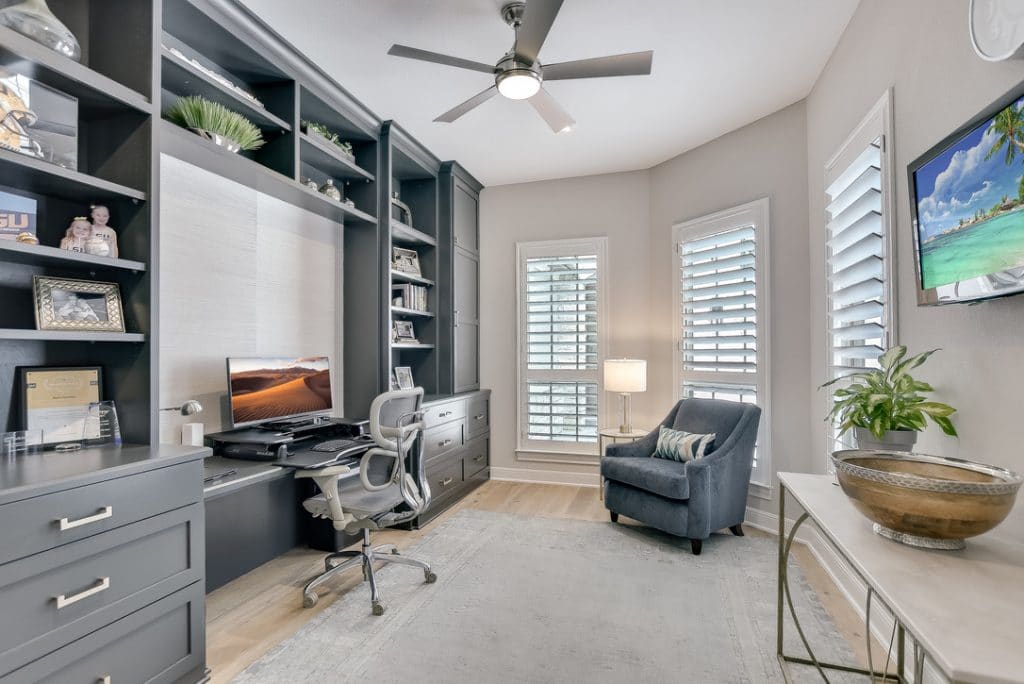 Below is a desk nook we built for my client's children. It is a great homework zone for houses that have small bedrooms. You could also convert a closet into a desk area like this. We used Stikwood along the back wall. Stikwood is real wood that you can just peel and stick onto a wall.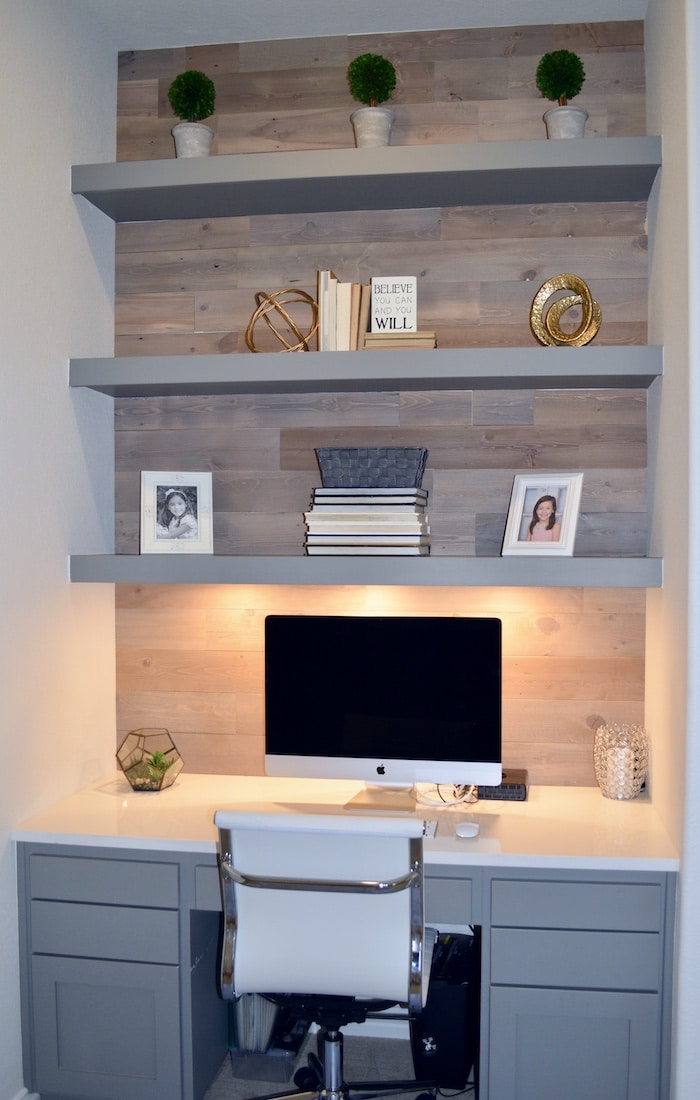 In the office below we painted the dark bookcase Hale Navy by Benjamin Moore. The small writing desk is perfect for a laptop and the sisal rug with a hide on top grounds the space. I love to do a gallery wall of family photos in a home office so we added one here. A beautiful chandelier by Gabby Home completes the room.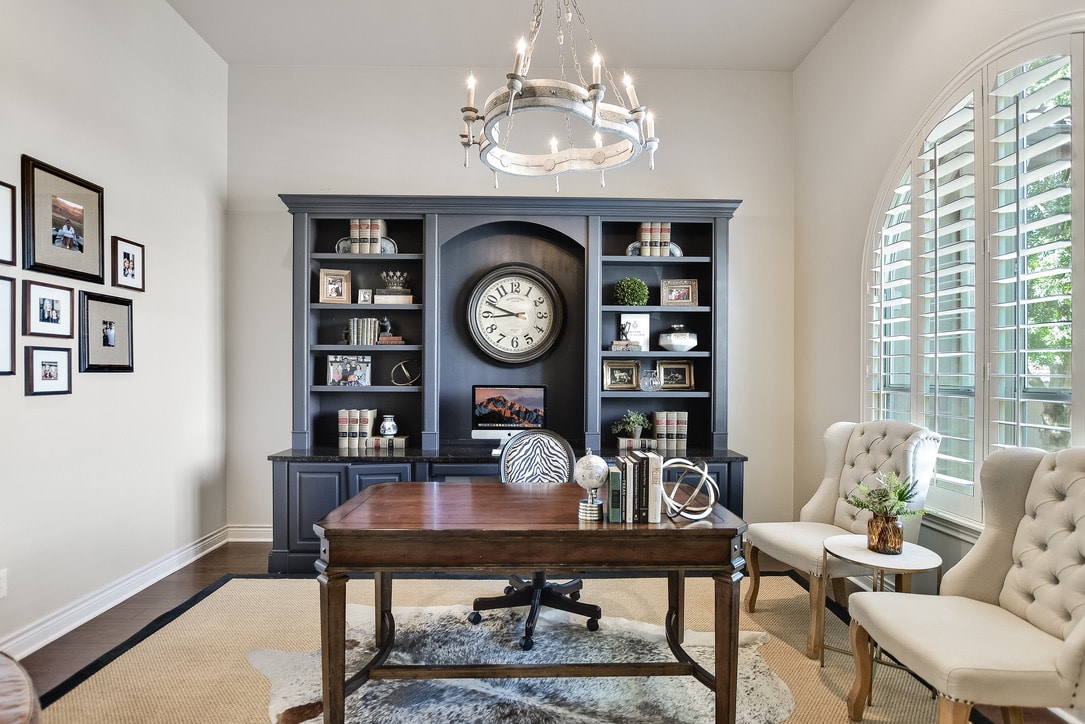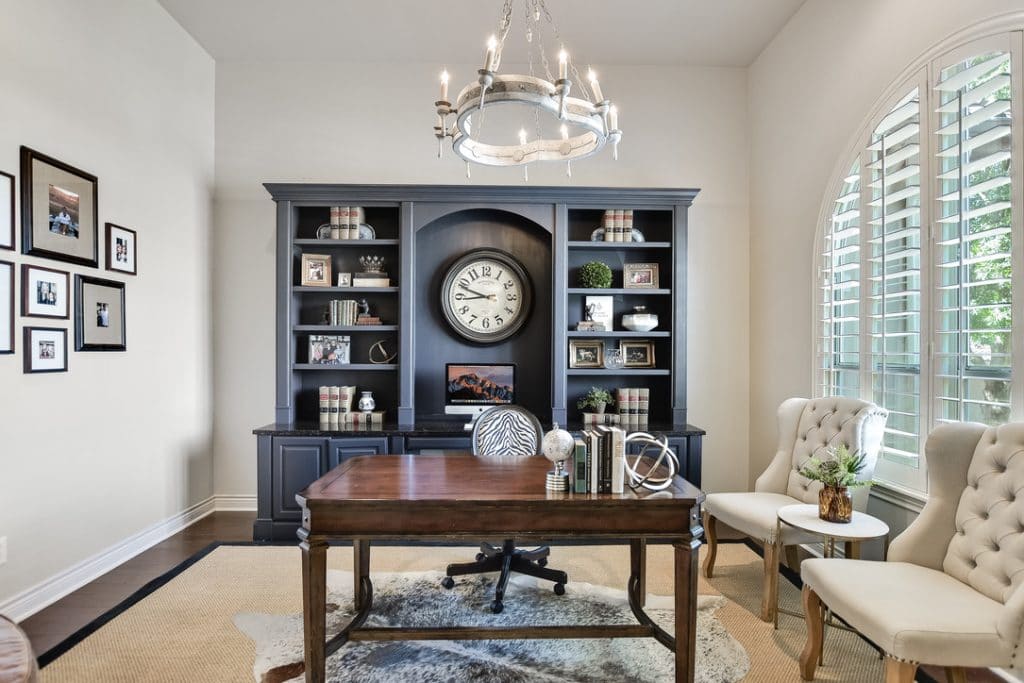 In this office below we brought in a large desk to put between a set of bookshelves for my client who works from home. She wanted to have an open desk that was large enough for her daughter to do her homework on the other side.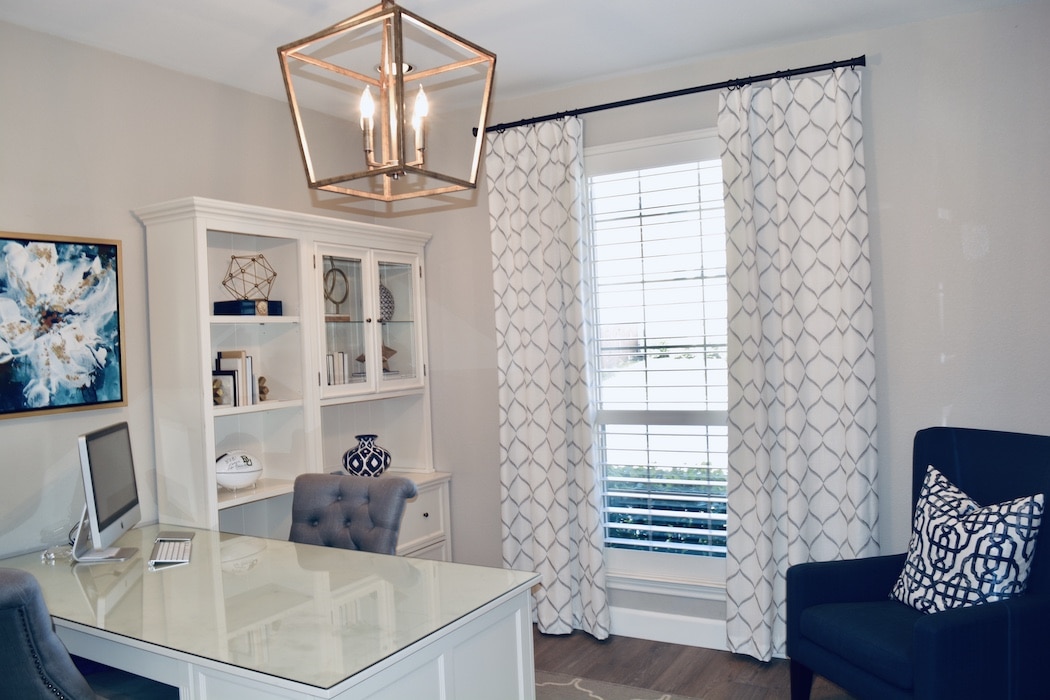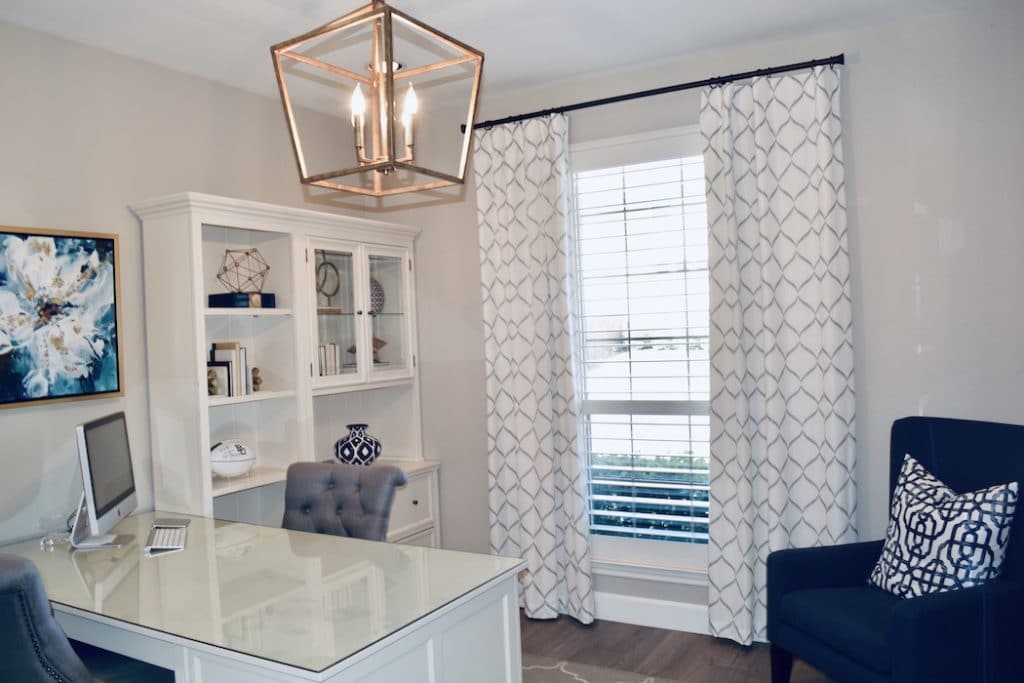 What about you? Does your home office need some work? Contact me here. I would love to help you create an inspiring home office!