A popular feature in new homes today is an open floor plan with a two story ceiling in the family room with a large bank of windows. It is beautiful. But after a year of living in the space and being blinded by the sun, you realize those windows may be a little impractical and you must decide on a window treatment. But how do you put drapes (or curtains) on a huge window like that? Most people take the practical route and put blinds on the lower bank of windows for privacy and stop there. But choosing drapes for two story windows can provide the color and texture contrast that you need.

The first thing I suggest are drapes that start above the top bank of windows and go to the floor. If glare is a problem, I recommend a window film like this one by 3M. We had our windows treated with this film and it made a huge difference. If more light control is still needed, I suggest translucent solar shades that can completely roll up when not in use like this one from The Shade Store.
Window Trim vs. Drapes
Most home builders in Austin, Texas (where I live), do not put trim around the windows. I wish they did because casing the windows makes a huge difference especially if the windows are the focal point of the room. But if you don't want to go to the expense of putting trim around your windows, hang some drapes. It will help with sound absorption and make the room look complete. The cased windows in the photo below look beautiful in this living room with a vaulted ceiling by Studio McGee.

Install One Rod Above the Windows
I recommend installing one rod above the top set of windows when you need to add drapes to a two story ceiling. This usually requires a professional installer with a really tall ladder. It also requires a very long custom rod with brackets. An adjustable rod will sag and cause the drapes to hang unevenly because one part of the rod is thicker than the other. Trust me on this. With my first house I bought a cheap adjustable rod and one side of the drapes touched the floor and the other side hung ¼ inch above the floor – not a good look.

If the windows are separated by sheetrock you can hang a drapery panel in front of the sheetrock, like in the photo of my client's family room below. But if not, you need to have enough fabric in the two side panels to look like you could close the drapes.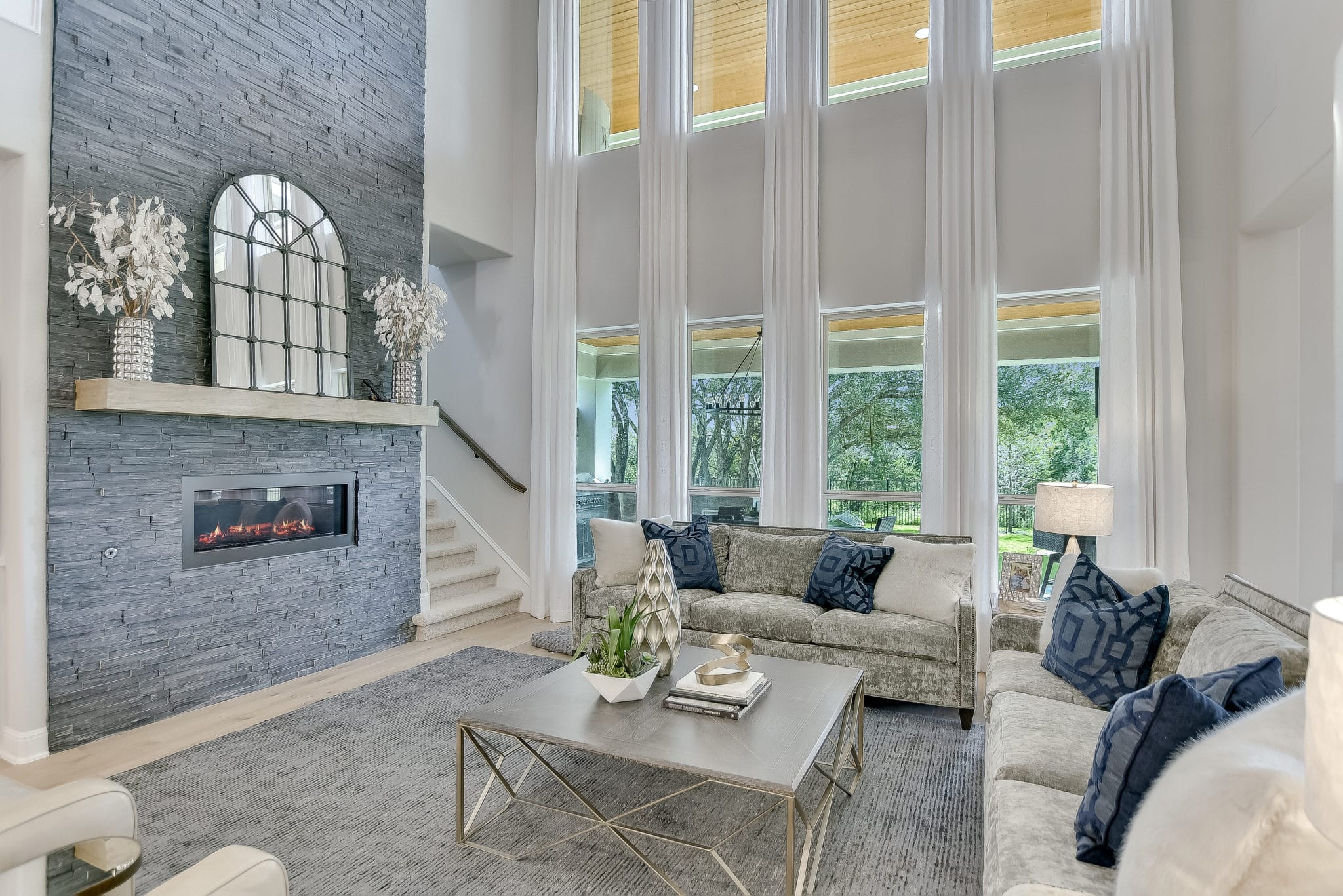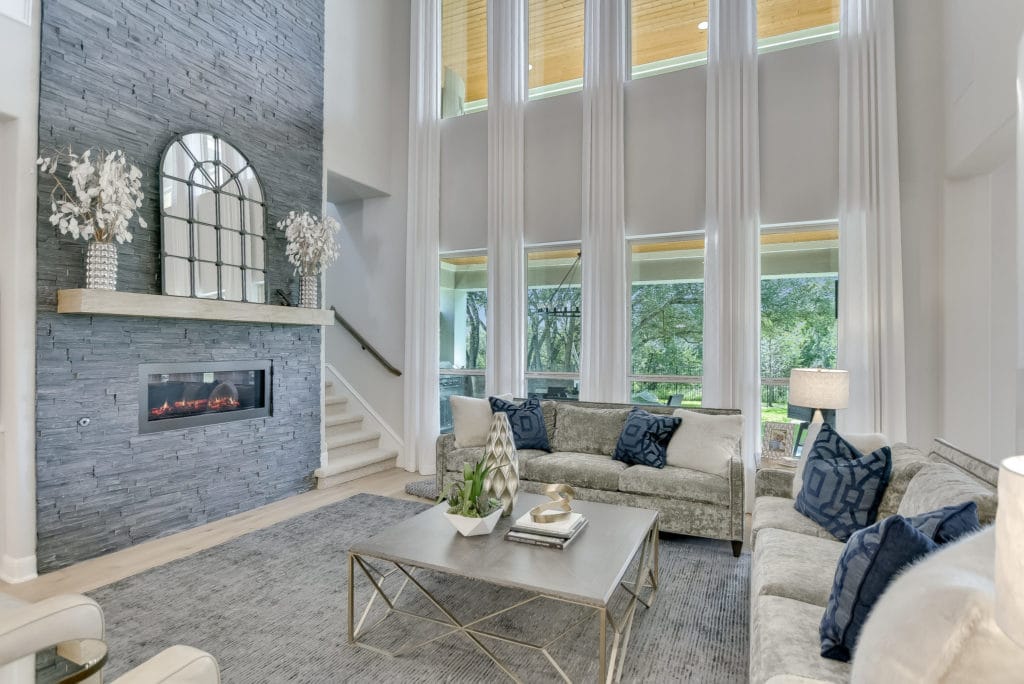 Drapes with Two Story Window and Curved Wall
This wall of windows in the photo below is curved. We had to use several rods and connect them with elbow brackets. These white linen drapery panels are a nice contrast to the dark sofa and really finish this large great room.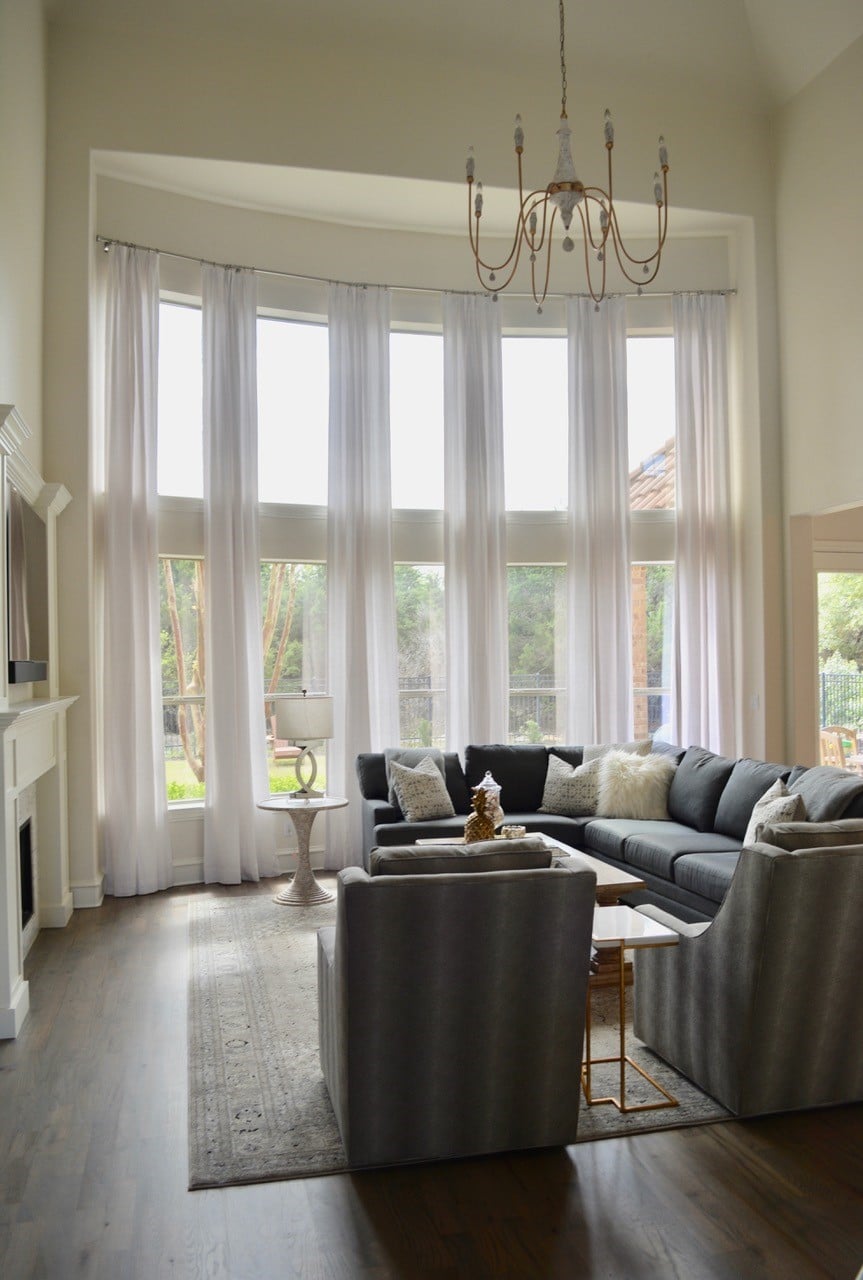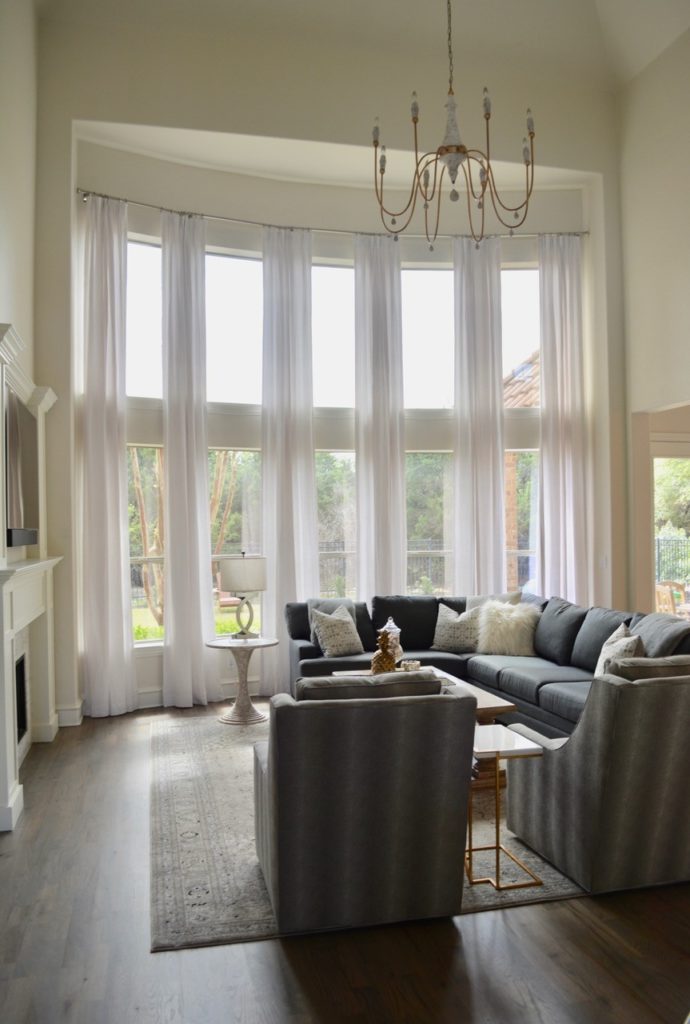 Hanging drapes on arched windows
What if the top window has an arch? Install a rod that goes across the entire bank of windows above the arch like in the photo below.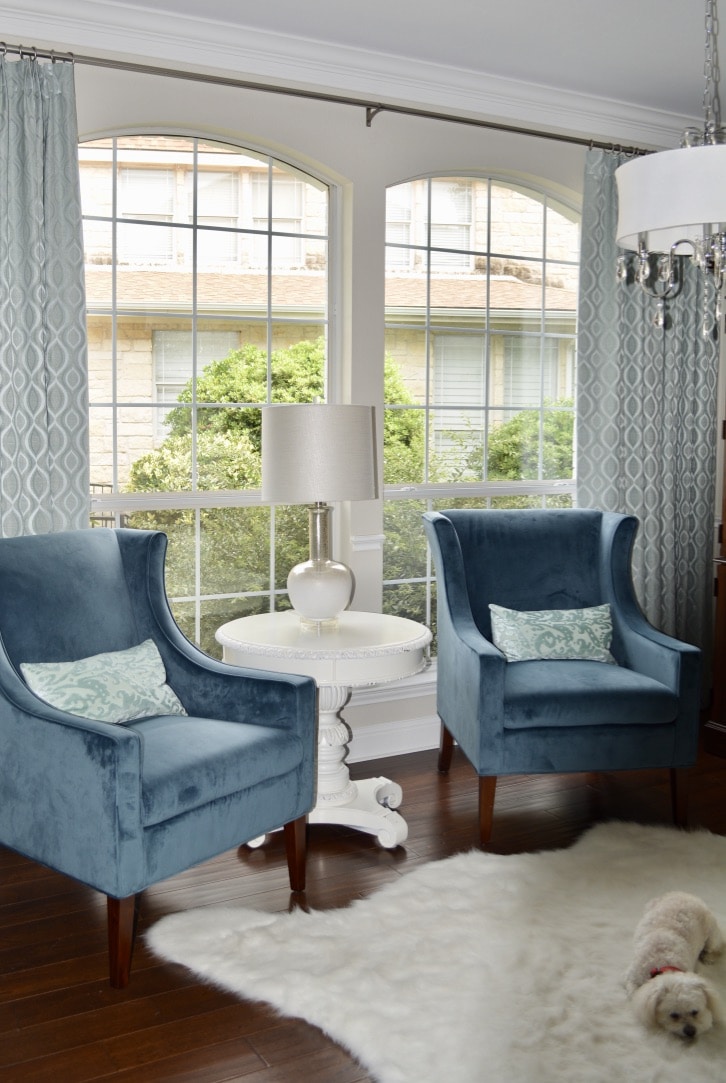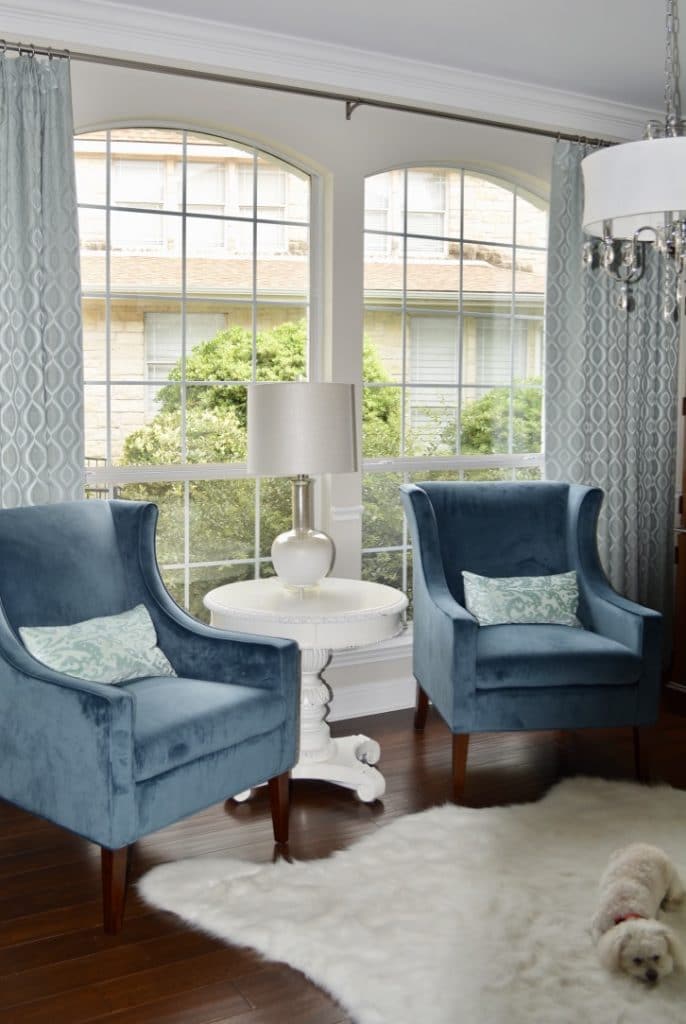 And never use shutters or blinds on a window with an arch, unless the shutters are custom made to fit the arch like in my client's study below.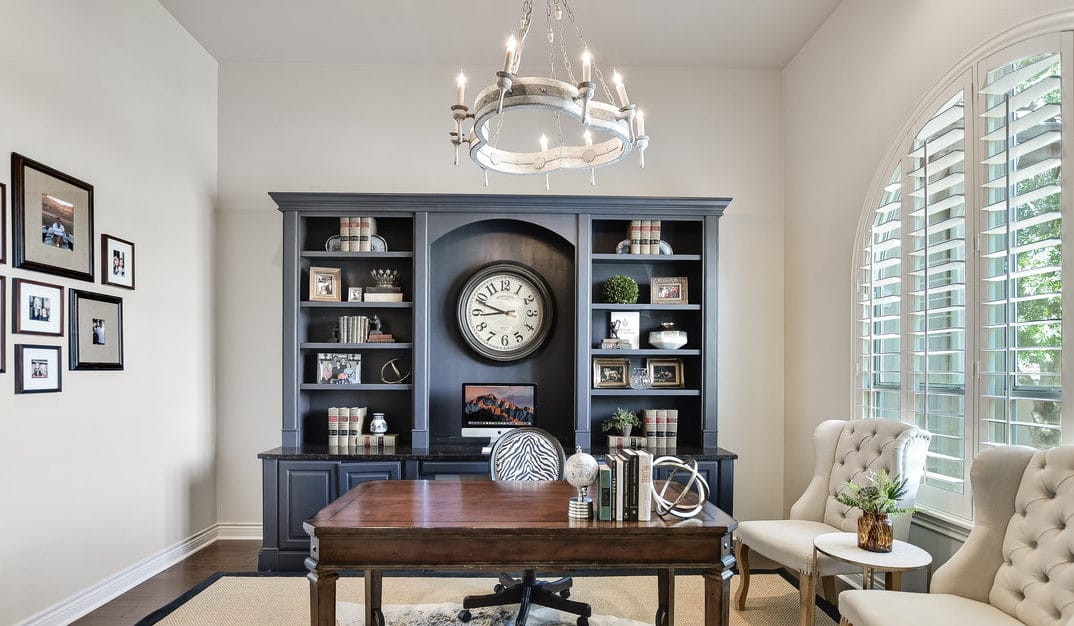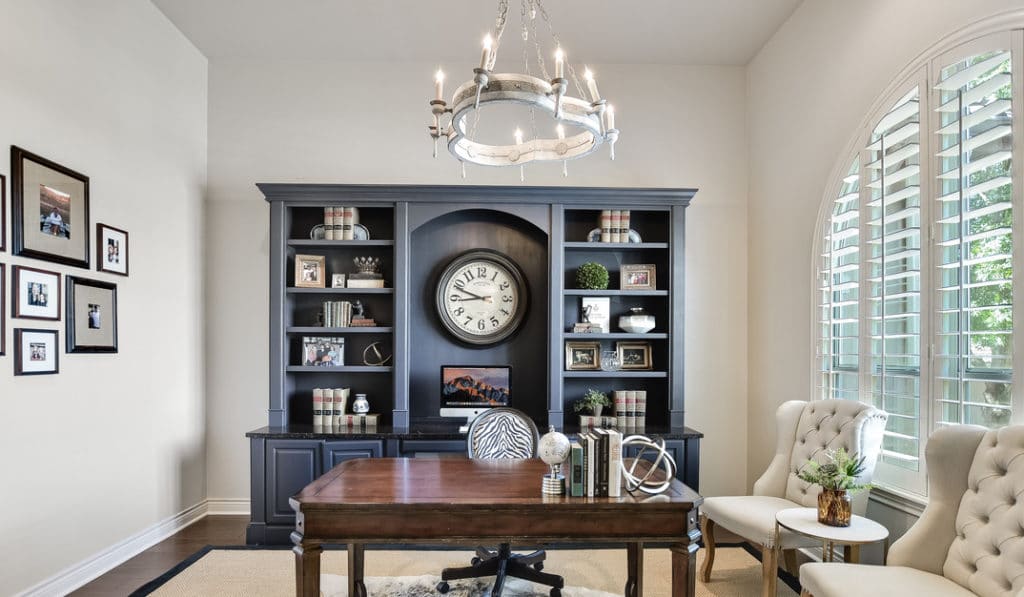 If you need help dressing your windows, contact me. I would love to help!
Until next time,
Kristen